Building leadership through Clubs and Societies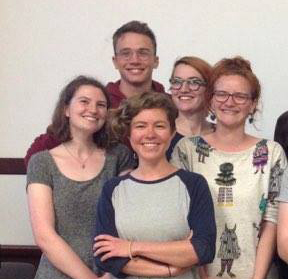 2017 has been a busy year for Sophie. She's devoted heaps of time to the Modern History Society (UQMHS). Here's what she had to say about that.
What's your role in the society?
I'm a Social Convener, which means that for about three quarters of last year I was helping with brainstorming and planning most of our social events for the year. I also attended other events like our workshops, movie night, O-Week stall, and our barbeques, and my job was also to make new students feel welcome and to encourage them to come to the events I helped plan.
What have you got out of your work with the society?
It was an awesome experience for me as a way to improve my confidence and my organisational skills, and I got to do a lot of baking! It gave me things to look forward to throughout the semester, plus I got the satisfaction of knowing that I had a hand in our events throughout second semester and that people were coming and enjoying them.
How did you get involved?
Aside from my role in planning events, I also attended all our AGMs and such, came to the various promotional events we had going on like our Market Day stall and our barbeques, and was involved in the peer mentor program, where I had the chance to correspond with a first-year student and hopefully help her out a bit with her assignments!
What purpose do you think the Modern History Society serves? What does it do for students?
Although I only got involved with the society about a quarter of the way through the year, I thought that becoming a part of it served to strengthen my relationships with a lot of people in the history faculty. I also was able to say that I had taken the time to come to all the various events we did, that I put my own time toward organising and preparing for them, and that I learnt some great skills as a result, like having to consider what sort of events would suit our members and how to make people feel welcome. The society also gave me something to focus on outside of my studies, and was a great challenge. I like to think that, overall, this opportunity has made me more employable, and in the least it has expanded my understanding of how beneficial it is to meet other people in the history faculty through clubs like the UQMHS, do something I haven't tried before, and take on more of a leadership role.
Sophie Priebbenow
BA/Laws (Honours) student
Faculty of Humanities and Social Sciences
3 April 2018
Follow HASS Crew on Facebook to stay connected with other HASS students.
Submit your own story:
Are you a HASS student with a story to tell? We want to hear from you!