"Trust and make your voice heard"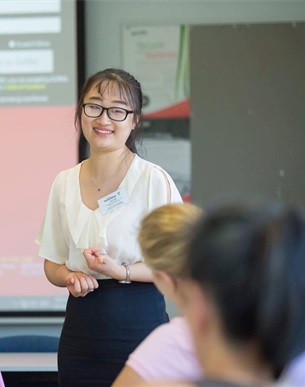 Coco Bu shares her experience presenting at the first-ever International Student Leaders' Forum in 2017. Coco talks about her experience as a student partner within the HASS Faculty and her personal experience and advice as an International student.
This two-day (26-27 October 2017) forum provided a professional development opportunity for Queensland student leaders, among which I was honoured to be a part. My involvement with the first-ever forum started with International Students Meet Parliament night where I met fellow student leaders and industry professionals, including MPs. It was a fruitful networking event that gave both domestic and international students from a number of Queensland regions opportunities to talk to each other, sharing their experiences. In addition, the speech given by the state treasurer acknowledged the contributions that international students make to Queensland. The awareness of the importance and positive impact of international students to Queensland's economy, education sector and overall community engagement were highlighted, leading to the importance of harnessing student voice.    
My second day in the forum was also productive. It started with me giving a presentation on my experiences with the Students as Partners initiative. I talked mainly about my personal experiences at the University of Queensland, starting from volunteering to co-organising and co-designing projects as a student partner with senior managarial staff. The message of Students as Partners was well-received when I talked about how these experieces had helped me grow personally and professionally. From a personal perspective, I became more confident and I am no longer afraid of articulating my opinions in front of people on different occasions. On a professional level, the employability skills I gained through performing the role as a student partner were beneficial to my future career prospects. These soft skills include organisational skills, time-management skills and communication skills. As I was given automony, initiatives and opportunities to work with other talented students in partnership with staff, I also felt empowered to perform my job, as well as to help other students gain a better tertiary education experience.
Not only did the presentation go well, I was also facilitating student discussions around several core topics. For example, the team that identified major factors to successful partnership was chosen to present to all participants towards the end. As the facilitator, I also gave a closing remark of our discussions on Advocacy Through Partnerships. I mentioned two key points — trust, and make your voice heard. I was trusted by the Manager of the Student Futures Team, Yvonne Oberhollenzer, who invited me to speak at this forum and guided me through planning my presentation. This trust was key to establishing a staff-student partnership, as without it I wouldn't be given the chance to speak out and share my experiences with so many other international students like me. Furthermore, as international students, we have to actively seek ways to make our voice heard. If you have problems here and there but want to enjoy your study and life journey, you have to talk through your problems with someone. If you are too shy, go to an international student body or a student advocate who you trust and who you believe can take actions regarding your issues. That's the only way to improve what we have and work from there. These remarks evoked agreement from the audience, especially the students.
Overall, the experience of participating in the Queensland Student Leaders' Forum as a student leader and presenter was mind-opening. I felt that the goal of disseminating the Students as Partners initiative was achieved and it was nice to know that such leadership forums will be rolling on in future years.
Coco Bu
B Arts and Graduate Diploma in Education
Faculty of Humanities and Social Sciences
31 January 2018
Follow HASS Crew on Facebook to stay connected with other HASS students.
Submit your own story:
Are you a HASS student with a story to tell? We want to hear from you!