Do you ever feel like you have no idea who else is studying the same major as you? When studying a BA or humanities degree, it can be difficult to feel like you are part of a distinct cohort, because students take courses at all different times. Connecting with other people doing the same program or major as you can help with choosing courses, developing study techniques, and thinking about a career beyond university, not to mention making friends and sharing common interests.
A range of events are available to help you connect with other students in your courses. Check these out below and keep an eye on this page for events related to your studies.
---
Academic Staff
Are you an academic and have an idea for an event that could build a sense of cohort in your course? We're providing funding for staff members to hold cohort-building activites.
Contact studentfutures@hass.uq.edu.au if you would like to discuss an idea.
Anthropology Museum Pop-up
Tuesday, 1 October
Every year one of my assignments in ANTH1030, the largest anthropology 1st year course, is a museum project. Students are tasked to choose 2 objects from their home that speak to our time and to display in a museum. The 20 best students submissions are chosen to be included in a pop-up exhibition and all students are invited to launch the exhibition. The aim is also to expose students to the museum as a place of research, teaching and engagement. Many students go on to study material culture or museum studies course
For more information contact: g.hoffstaedter@uq.edu.au
ANCH3030 Work Integrated Learning Exhibition and Celebration 
Thursday, 25 October
Students in ANCH3030, the Ancient History Capstone Course, will be partnering with the R.D. Milns Antiquities Museum in a Work Integrated Learning Initative. Students will work in Groups to produce signage for a mini-exibition based around course themes and artefacts in the R.D. Milns Antiquities Museum. The group judged to have produced the best signage will be invited to curate a physical exhibition. Other groups will be invited to create posters or mount their exhibtions on Omeka. Their achievements will be displayed and celebrated at the museum at a special event on the evening of Friday, 25 October.
For more information contact: j.mcwilliam@uq.edu.au
POLSIS Postgrad Celebration
Semester 2 2019
This event will engage students with practitioners in their fields of study - Peace and Conflict, International Relations, Governance and Public Policy -thank mentors for participating in the Grad Centres mentor program, invite alumni to meet current students and mentors and showcase programs to industry partners.  
Islam Uncut: Films on Society and Muslim Life
Semester 2 2019
The aim of this event is to foster discussion and community through exploring Islam and Society through film. This initiative coincides with related activities at UQ: Dr Williams' teaching of a course on Islam in Sem 2, 2019; a HASS panel discussion to the Christchurch shootings held on 22 March 2019 (Williams was a panellist, and he published a response piece related to Islamophobia on the ABC religion & ethics website); and the University's equality and inclusion mandate. The issues of integration, empathy and cross-cultural understanding are at the core of the Student Futures mandate for forging socially conscious and educated students for entering society and employment, and these are the express aims for this initiative during Sem 2, 2019. Films will be shown throughout the term. Muslim chaplains ("Industry partners") are included in the scope. The proposed films are as follows: shown include: "Koran by Heart" (HBO) "Sacred Journeys": Hajj (PBS) "My brother the Islamist" (BBC)
For more information contact: ryan.williams1@uq.edu.au
Gender Studies Futures 
Semester 2 2019
We are hosting an event to build the Gender Studies cohort at UQ. We are inviting a panel of industry experts working in areas that require a nuanced understanding of Gender. The aim is to help students to imagine what they can do in terms of employment in areas related to Gender Studies. There will also be icebreaking and team building games/activities to build the cohort.
For more information contact: laura.roberts@uq.edu.au
Best of the Best Student Awards
Tuesday 28 May 2019
The "Best of the Best" student showcase in Dr Alex Bevan's COMU1140 Multimedia is the culmination of the semester for the course's students and staff. All semester, the students have been working in groups of five to create and then pitch a multimedia storyworld or brand that is dispersed across at least five media platforms. Each of the 14 tutorials voted on the best pitch in their cohort and then those final 14 contenders pitched their projects to a panel of judges at the event. The overall winning pitch, Lemon Car (Daniel Cox, Alex McFarland, Georgia Bird, Ciara Morgan and Dan Bogessian), was a smart and snappy brand and associated reality show for a proposed electric, automated shared ride company in Brisbane. 
History/IASH Documentary Series 2019
Throughout Semester 1 2019
The documentary series for Semester 1 2019 featured three different screenings. The first screening on 26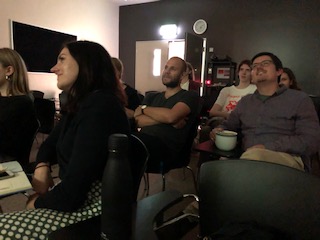 March 2019 showed OUT In the Line-up, the film included a panel discussion with experts UQ Anthropology Museum Director Michael Aird and Dr Rebecca Olive from HMNS, sparking lively discussion with audience members. The second screening on 9 April 2019 of My Long Neck, a film about the lives of "long-neck" Burmese women living in Thailand, was perhaps the most successful screening with the seminar room at near full capacity. The panel consisted of the filmmaker Shalom Almond and Dr Mair Underwood from HASS, and a highly engaged and responsive audience. The final screening on 30 April 2019, The Family, told the history of the international cult known as "The Family" based in Melbourne in the 80s-90s. The panel of experts, featuring Dr Adam Dodd, Dr Ryan Williams and Dr Jamie Freestone, spurred an extensive discussion with the audience members. Each event was followed by a reception of pizza and non-alcoholic drinks, which allowed students and audience members to engage further with the experts.
Indonesian End of Year Event
Thursday 1 November 2018
On Thursday the second of November the Indonesian program hosted a cohort building activity. This activity was run as an Indonesian dance workshop convened by the Sydney-based Suara Indonesia Dance group. During the two hour workshop the group of around twenty participants learned and performed two body percussion dances from Aceh (Indonesia's northern most province). The activity involved both staff from the Indonesian program, our students from first year through to honours level, together with teachers from state and private schools, a representative from the Queensland Education Department's Language Other Than English section, Indonesians who were studying at UQ and part of the University of Queensland Indonesian Students Association (UQISA), members of the Australia Indonesia Youth Association (Queensland chapter), and some members of the long-term Indonesian community living in Brisbane.
Becoming a Teacher! Primary Teaching Celebration Event
Monday 22 October 2018
Making time to celebrate big achievements together matters. For future primary teachers, the final semester involves a major research project conducted in parallel to final practicum placement. It is an exciting achievement to conduct research and prepare for work. Making time to acknowledge the cohort's achievements and celebrate together builds community as pre-service teachers transition from UQ student to alumni. On 22 October, following presentations of original research, a BBQ for 50 UQ students in EDUC4703 and in the primary education honours program was hosted. Students had the opportunity to celebrate a big achievement, eat together, and network with Nattalia Godbold, a teacher and curriculum leader at an elite Gold Coast school. 
Bachelor of International Studies (BIS) Careers Evening
Wednesday 10 October 2018
The Bachelor of International Studies (BIS) Careers Event was a great success,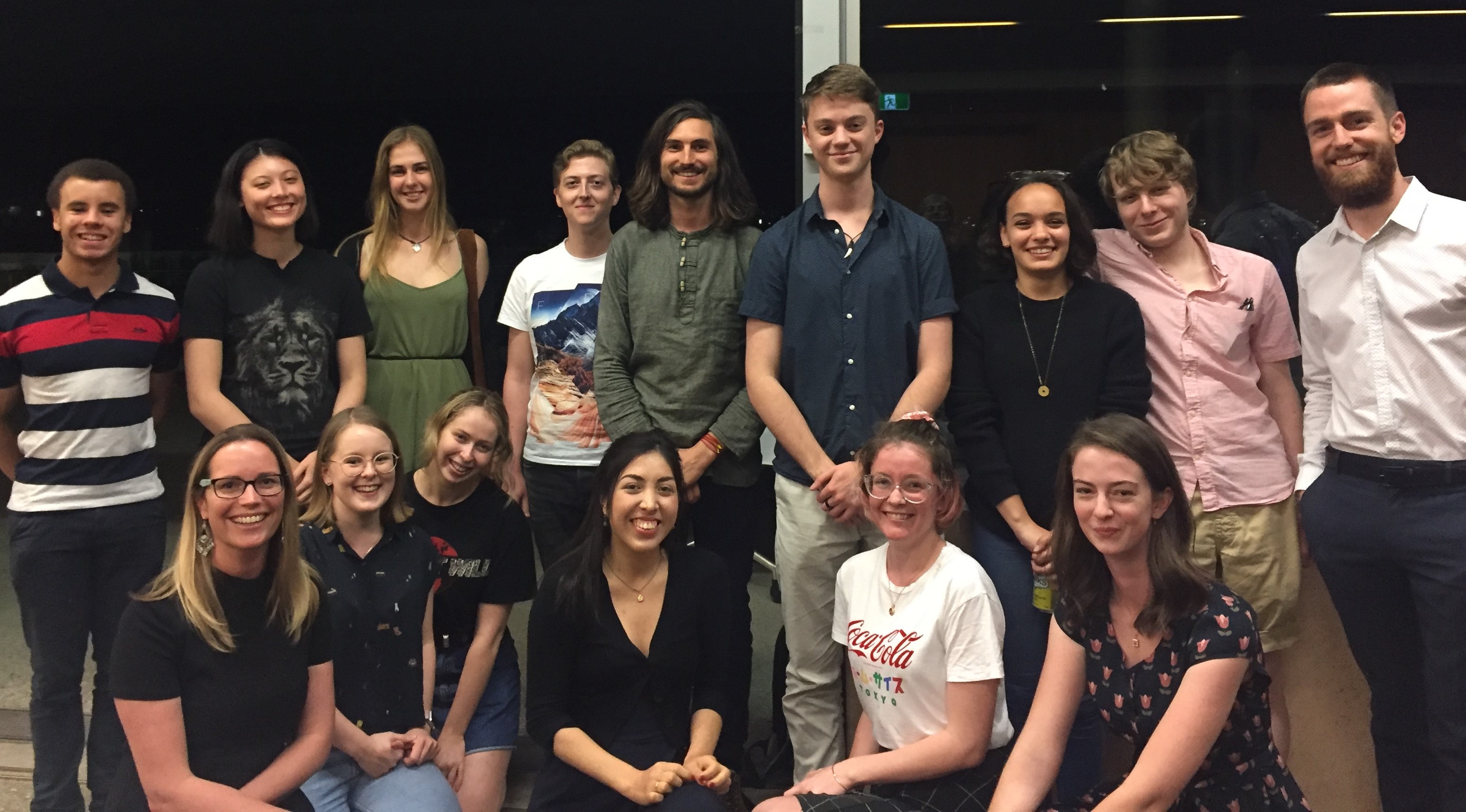 attended by BIS students from all year levels. The students had the great opportunity to ask career-related questions to our panel of 3 graduates in the area of International Studies. Topics covered included; volunteering, post-graduate opportunities, and internships. In addition to these, the panellists gave their advice to students on how to build up a network whilst studying, what skills are considered necessary or beneficial for various careers, and ways in which students can try to stand out in a job application. After the Q and A style panel, there was food and drinks available and students approached the panellists for further discussions. Overall students came away from this event feeling they had a better sense of the career opportunities that were available to them, and strategies they could use to improve their employability.
UQ Master of Music Cohort-Building Workshop 
Thursday 13 September 2018  
The event began with two theatre sports type activities as getting-to-know-you games. Our guest, Anthony Garcia, then played a guitar solo  and spoke for a few minutes about his Bris-Asia projects (with video of past events) which provides possible connections for the overseas students and opportunities to participate in the wider Brisbane community. A question time followed. Food (with an Asian flavour) and drinks followed. Most participants stayed right to the end, making this last stage of the event approx. an hour long and highly interactive. Most staff stayed to the end and mixed freely with students. Participants were also given a sample bag of "goodies" upon arrival, the contents of which one student eagerly set about photographing. We are grateful to the HASS faculty for providing funding for this activity.
UQ Criminology Boggo Road Gaol Tour
Wednesday 8 August 2018
Approximately 60 criminology students and staff enjoyed an afternoon getting to know one another and all about the infamous Boggo Road Gaol, providing some colourful context to Queensland's criminal justice history. The group met first on campus for a pizza lunch hosted by the Criminology and Criminal Justice Student Society to chat about their experiences studying criminology from first to final year. Following lunch, the group made their way across the Eleanor Schonell Bridge to the Gaol in Dutton Park. Boggo Road tour guides took the group through the Goal's past, and stories from an ex-prisoner gave the group an insight into the lived experience of what was one of Queensland's main correctional facilities for much of the 20th century.