Do you ever feel like you have no idea who else is studying the same major as you? When studying a BA or humanities degree, it can be difficult to feel like you are part of a distinct cohort, because students take courses at all different times. Connecting with other people doing the same program or major as you can help with choosing courses, developing study techniques, and thinking about a career beyond university, not to mention making friends and sharing common interests.
A range of events are available to help you connect with other students in your courses. Check these out below and keep an eye on this page for events related to your studies.
---
Academic Staff
Are you an academic and have an idea for an event that could build a sense of cohort in your course? We're providing funding for staff members to hold cohort-building activites.
Contact studentfutures@hass.uq.edu.au if you would like to discuss an idea.
School of Communication and Arts International Student Celebration
24 May 2019
The School of Communication and Arts has an intake of 170 international students (undergraduate + postgraduate) this semester. We will bring this new international cohort and last year's international cohort together to celebrate a successful end of first semester. This initiative has 3 objectives: a) enable the new and established undergrad and postgrad cohort to mingle and build a sense of community, b) an opportunity for international students who have already been here a year to act as mentors/buddies for the new cohort, and lastly, c) we will also feature talks by some key UQ services to lay the groundwork to prep students for an improved student experience in Semester 2.
HUMN2500 Mini-conference
24 May 2019
Student presentations and Keynote speaker presentations from not-for-profit industry partners associated with the HUMN2500 volunteering project.
Gender Studies Futures 
27 May 2019
We are hosting an event to build the Gender Studies cohort at UQ. We are inviting a panel of industry experts working in areas that require a nuanced understanding of Gender. The aim is to help students to imagine what they can do in terms of employment in areas related to Gender Studies. There will also be icebreaking and team building games/activities to build the cohort.
Best of the Best Student Awards
28 May 2019
Multimedia COMU1140 is one of the largest courses in HASS (with 283 enrolments in semester 1). The course asks teams of between four and six students to create a transmedia story of brand of their design and pitch it as they would to a team of potential investors. At the end of each semester, each of the 14 tutorials votes on the best pitch in that tutorial and those final 14 pitches showcase their work in the "Best of the Best Student Showcase." This event will build a sense of friendly competition in the Best of the Best Showcase by inviting a select number of "judges" from across HASS to participate in delivering four awards that will come in the form of student-union vouchers: "The Best Overall Pitch" ($200), "Biggest Risk Taker" ($100), "Most Creative" ($100), and "Most Professional" ($100). Judges would include representatives from the Creative Writing programme at HASS, the JACS President, staff in the Bachelor of Communication and some of my Student-Staff Partners who are working with me this semester in a project that blends COMU1140 for future iteration. These student awards will incentivise a high attendance of the final showcase and will give the winners something concrete to place on their CVs for the long term. The awards and judging will also contribute to a sense of cohort building and fun for the class and staff in the Bachelor of Communication as a whole.
Renewing Anthropology
30 May 2019
The event will build connections between RHD students in anthropology, undergraduate anthropology students and graduates of the program (select industry partners). The event is designed to integrate with the final feedback and reporting from a student-staff partnership program (of the same name) being undertaken in semester 1. The event will include a short poster-style reporting session (20 mins max) on the outcomes of the project, and seek informal feedback from participants (through hard copy and digital interfaces) on these. Catering will be provided for an hour's networking and chatting among participants. 
Master of Educational Studies end of Year Celebration
Thursday 8 November
The end of year celebration  was well attended and students had the opportunity to talk to us about a range of issues including further study, some of the ideas they had when they re-join the workforce after studying.  There was a mix of domestic students and students fom Myanmar,  China, Japan, Columbia, Indonesia and many more!
Indonesian End of Year Event
Thursday 1 November
On Thursday the second of November the Indonesian program hosted a cohort building activity. This activity was run as an Indonesian dance workshop convened by the Sydney-based Suara Indonesia Dance group. During the two hour workshop the group of around twenty participants learned and performed two body percussion dances from Aceh (Indonesia's northern most province). The activity involved both staff from the Indonesian program, our students from first year through to honours level, together with teachers from state and private schools, a representative from the Queensland Education Department's Language Other Than English section, Indonesians who were studying at UQ and part of the University of Queensland Indonesian Students Association (UQISA), members of the Australia Indonesia Youth Association (Queensland chapter), and some members of the long-term Indonesian community living in Brisbane.
WEP Networking Soiree and Project Launch
Wednesday 31 October
The WEP Soiree successfully celebrated and strengthened the vibrant network of potential, current and past students of the Writing, Editing and Publishing Program. Held on 31 Oct 2018 in The Atrium, the WEP Soiree featured a Student Partner announcing the Young and Emerging Publishers project, as well as Student Interns presenting a 'cover reveal' of their beautiful book, Bridget's Locket and Other Mysteries by Waif Wander – the first title to be published by UQ's new student-led Corella Press. Program Director Assoc. Professor Kim Wilkins presented a brief overview of her recent visit to the Frankfurt Book fair, which was enthusiastically received by the attendees. Academic staff from WEP and UQ partners from UQP and Marketing attended, providing a meaningful forum to acknowledge and thank those so important to the success of WEP through 2018.
Music Education End of Year Celebration
Wednesday 31 October
Associate Professor Julie Ballantyne hosted The Inaugural Music Education Soiree on Thursday 1st November at the UQ School of Music. The school has maintained an internationally respected program for many years, and the Soiree was an outstanding opportunity for the community to gather in celebration of Music Education in Queensland and beyond. The evening was attended by alumni, researchers, industry professionals, undergraduate students and staff members, with key members giving informal talks about their experiences in all aspects of music education.
Cultural Heritage Management Professional Showcase
Wednesday 31 October
The event treated five industry employers and at least 59 students to lunch and discussions around job prospects and careers in Queensland's rapidly growing heritage industry. The students were approximately 60% undergraduates and the rest a mix of honours, higher degree by research and Master students who I suggested should bring along CV's and questions. Interestingly, we had a couple of alumni turn up too. The guests also judged a 'Best Cultural Heritage Management /Archaeology' poster prize, which went to one of this year's graduating BA students. Happily she is going into Honours! The feedback was very positive from all sides, with the industry participants very happy to have the run of our students - several had job opportunities going! - and the students were empowered by the reality of an industry looking for new employees. Everyone is happy to do this again next year and I would hope to broaden the scope beyond archaeology. I also liked the fact that the event brought all student groups into our Postgraduate conference venue and provided a chance for community and cohort development within UQ but also extending beyond its walls.
Applied Linguistics Picnic
Saturday, 27 October
The School of Languages and Cultures (SLC) Applied Linguistics end-of-semester picnic was an held on Saturday 27th Oct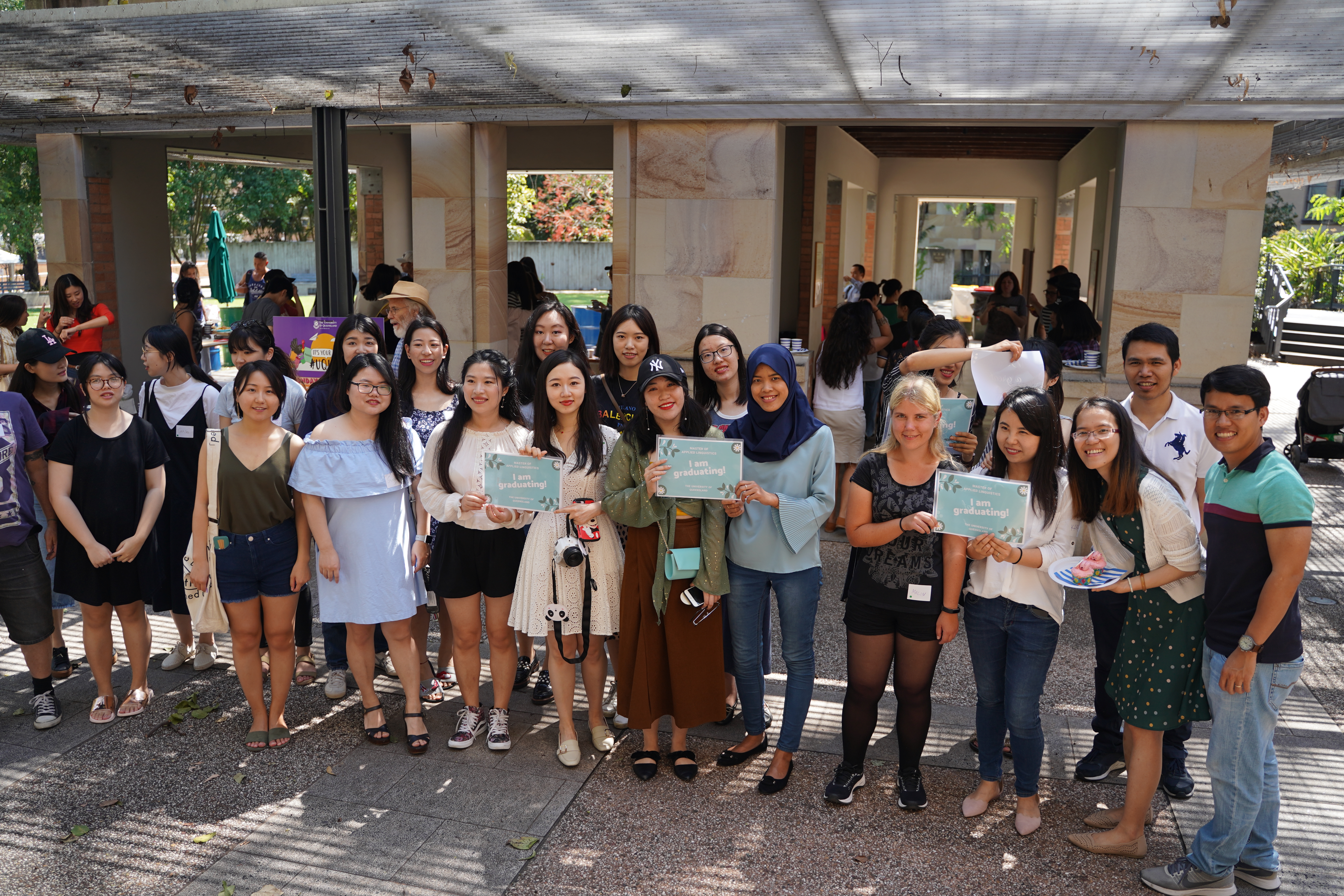 Approximately 90 students from our cohort of 150 attended the event, along with all applied linguistics lecturers, lecturers from other departments of the SLC, and the SLC Head of School, Professor Michael Haugh.  The theme was that of a spring 'cupcake and pizza' party, with catering from Pizza Cafe and 80 cupcakes made by a member of our student body.  The event was an opportunity to let off steam after a busy semester, farewell a number of graduating students and two fixed-term contract staff who will be taking on positions in the UK.  A series of fun cohort-building activities were organised by two student helpers who managed to entertain this large group in very hot weather.  This was one of the best turnouts we have had for an SLC student event and all attendees commented positively on the event.  We feel that the event was a major success and has definitely improved student-student and student-staff relations for a cohort that are overwhelmingly L2 English speakers and who struggle to make friends outside of their own ethic and cultural groups
Museum Pop-up Exhibition Opening
Thursday 25 October
This pop-up exhibition tells a series of stories about the dynamic relationship between people and things. Objects are all around us, some of us hoard them, some may lead more minimal lives, but every day we engage with any number of objects: we may wear them, use them to carry things around, treasure them, use them to check the time or our emails, remember people or places by – the ways we interact with them are innumerable. For this exhibition 20 ANTH1030 students are speaking 50 years into the future, to reflect on the things in their life that they use on a daily basis, engage with or represent them. To be placed into the anthropology museum raises issues of representation, power and the role museums play in displaying, obscuring or creating new meanings for these objects.  What stories do our students seek to tell with their choice of objects? How will they be interpreted and retold?
Becoming a Teacher! Primary Teaching Celebration Event
Monday 22 October
Making time to celebrate big achievements together matters. For future primary teachers, the final semester involves a major research project conducted in parallel to final practicum placement. It is an exciting achievement to conduct research and prepare for work. Making time to acknowledge the cohort's achievements and celebrate together builds community as pre-service teachers transition from UQ student to alumni. On 22 October, following presentations of original research, a BBQ for 50 UQ students in EDUC4703 and in the primary education honours program was hosted. Students had the opportunity to celebrate a big achievement, eat together, and network with Nattalia Godbold, a teacher and curriculum leader at an elite Gold Coast school. 
Bachelor of International Studies (BIS) Careers Evening
Wednesday 10 October 2018
The Bachelor of International Studies (BIS) Careers Event was a great success,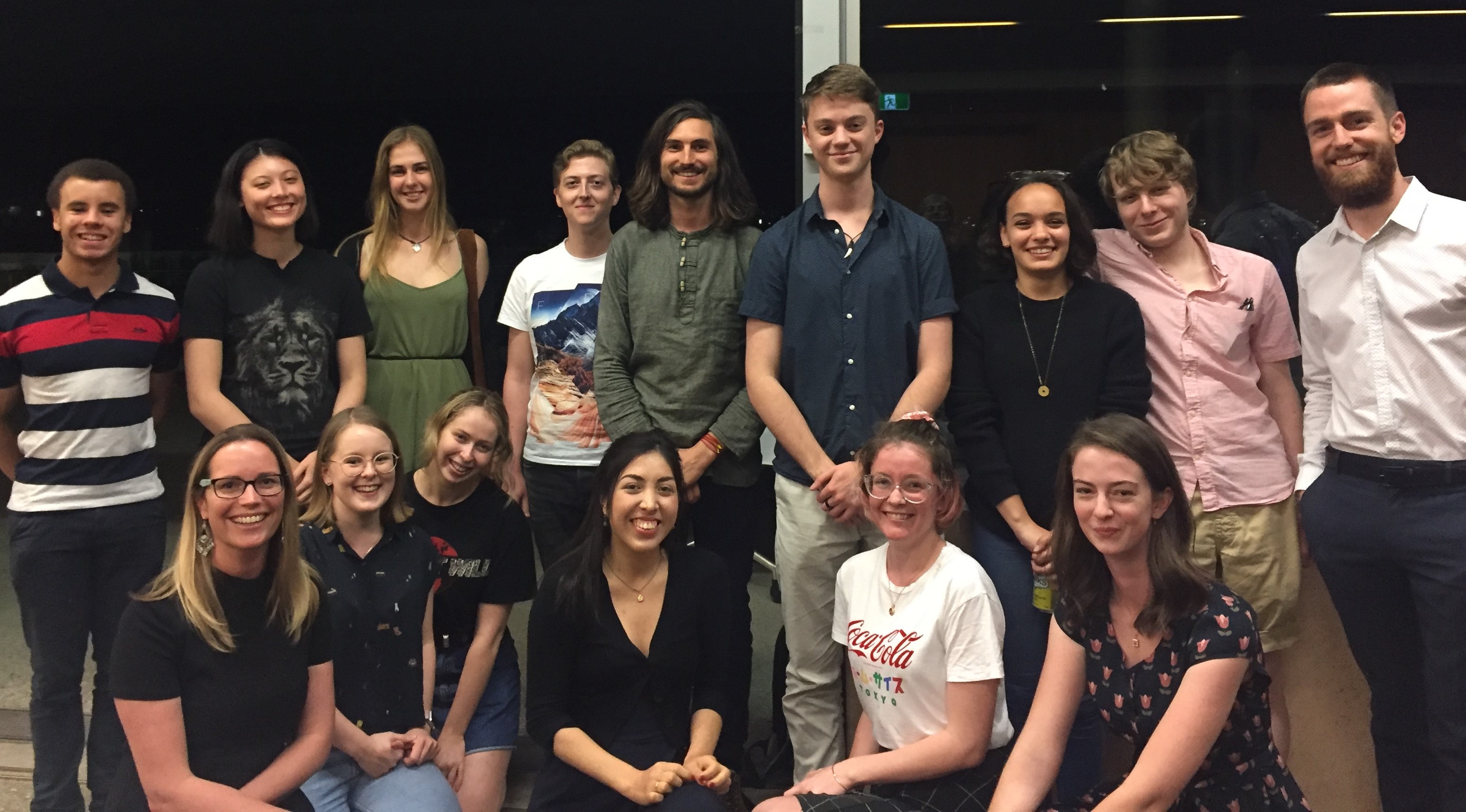 attended by BIS students from all year levels. The students had the great opportunity to ask career-related questions to our panel of 3 graduates in the area of International Studies. Topics covered included; volunteering, post-graduate opportunities, and internships. In addition to these, the panellists gave their advice to students on how to build up a network whilst studying, what skills are considered necessary or beneficial for various careers, and ways in which students can try to stand out in a job application. After the Q and A style panel, there was food and drinks available and students approached the panellists for further discussions. Overall students came away from this event feeling they had a better sense of the career opportunities that were available to them, and strategies they could use to improve their employability.
TechnoSapiens Symposium
Tuesday 9 October 2018
The cohort's of HUMN1201 and SCIE2011 recently organised and ran the TechnoSapiens Symposium. The symposium educated people on the scientific future and impact of technology such as artificial intelligence, robots and gene editing technology, such as CRISPR, on humanity. Leading researchers from UQ, QUT and RMIT presented 30 minute speeches on their respective specialties. The symposium was then wrapped up with a panel discussion between the speakers with questions from the audience. This completely student-driven symposium involved creating advertisements, organising speakers, collaborating with faculties for funding and documenting the event. It's hoped that this event will allow students and scholars alike to learn about the implications of our technology-ridden future.
Russian Language Students End of Year Celebration
Friday 5 October 2018
The End-of-Year Russian Program celebration alumni, current and emeritus staff and community partners to celebrate the achievements of the program in the past year as well as provide opportunities for students, staff and community members to network over shared food. The event started with the overview about the innovations in the Russian Major curriculum, a new scholarship for study in Russia and overview of extracurricular activities the program has held this year. Third year students read Russian poetry and made a photo-presentation about their study abroad and travel experience in Russia in Semester 1 2018. Two presentations by community partners focused on the history of the Russian community in Brisbane and the upcoming Festival Slavfest 2019 that brings together nine Slavic communities in Queensland with an invitation for students to get involved in the events. We also used this opportunity to thank Russian community partners who have been helping second and third ear students practice their spoken skills.
Karl Marx to Cardi B Sociology Trivia night
Tuesday 2 October 2018
The aims and outcomes of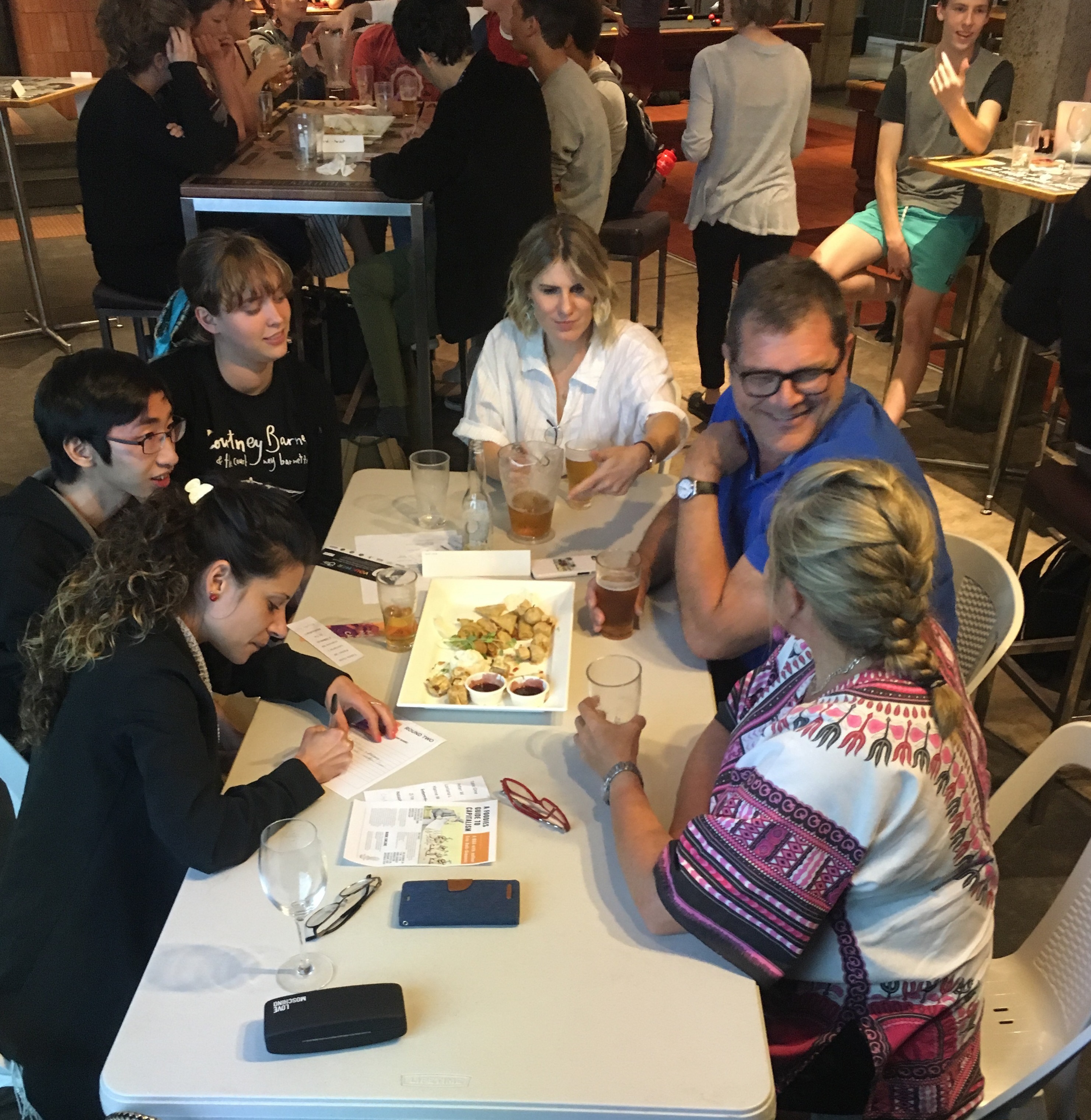 the cohort-building activity in sociology 'Karl Marx to Cardi B Trivia Night' were substantially enhanced with the inclusion of five sociology students in the design and planning of the event. Funded by the UQ Employability Office's Student-Staff Partnership's team, the five students – Heidi Minchin, William Bullock, Lucy Rykers, Romy Wilson Gray and Francisca Powell – worked with the sociology staff over the course of semester 2 on a range of curriculum reform activities in the BA sociology major. Having the students on board gave the sociology team the perfect opportunity to plan an event that was genuinely designed for sociology students by sociology students. As the first in what is hoped to be a series of cohort-building events, the student team agreed that the event needed to be fun; to give students an opportunity to interact informally; to be inclusive; and to facilitate closer engagement between undergraduate students, their teaching staff and tutors. To this end, a sociology trivia night was scheduled for Tuesday 2nd October in the Red Room from 6-8pm. The student team designed the questions, which contained a mix of general knowledge, popular culture and sociology. The HASS Student Futures Team provided funding to cover prizes and light refreshments; and the sociology staff provided free jugs of beer. Associate Professor Cameron Parsell acted as quiz master for the evening. The event was highly successful and attracted 42 attendees – 7 staff, 33 students (undergraduate, honours and PhD) and two casual tutors – who were compiled into mixed teams to ensure an equal distribution of expertise and an opportunity to meet new people. On the back of the success, the five students as partners are now identifying similar cohort building events to be held in semester 1 2019.  The organising committee for the event would sincerely like to thank the HASS Student Futures Team for providing the Cohort Connections funding and making this event possible. Some photos of the evening are attached.
UQ Master of Music Cohort-Building Workshop 
Thursday 13 September 2018  
The event began with two theatre sports type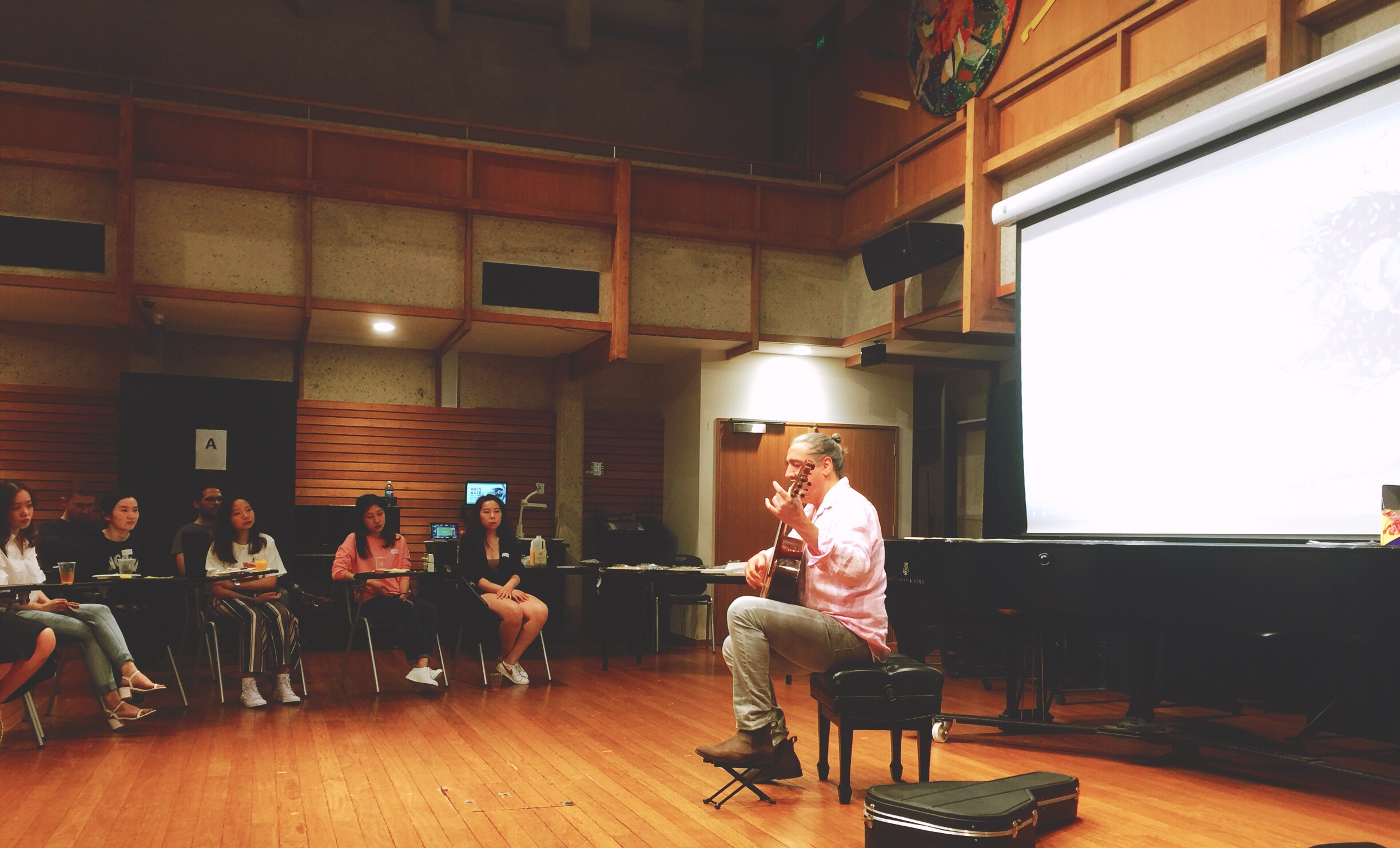 activities as getting-to-know-you games. Our guest, Anthony Garcia, then played a guitar solo  and spoke for a few minutes about his Bris-Asia projects (with video of past events) which provides possible connections for the overseas students and opportunities to participate in the wider Brisbane community. A question time followed. Food (with an Asian flavour) and drinks followed. Most participants stayed right to the end, making this last stage of the event approx. an hour long and highly interactive. Most staff stayed to the end and mixed freely with students. Participants were also given a sample bag of "goodies" upon arrival, the contents of which one student eagerly set about photographing. We are grateful to the HASS faculty for providing funding for this activity.
UQ Criminology Boggo Road Gaol Tour
Wednesday 8 August 2018
Approximately 60 criminology students and staff enjoyed an afternoon getting to know one another and all about the infamous Boggo Road Gaol, providing some colourful context to Queensland's criminal justice history. The group met first on campus for a pizza lunch hosted by the Criminology and Criminal Justice Student Society to chat about their experiences studying criminology from first to final year. Following lunch, the group made their way across the Eleanor Schonell Bridge to the Gaol in Dutton Park. Boggo Road tour guides took the group through the Goal's past, and stories from an ex-prisoner gave the group an insight into the lived experience of what was one of Queensland's main correctional facilities for much of the 20th century.
Best of the Best Final Pitch Extravaganza
Wednesday 30 May 2018
First year students from the Bachelor of Communication and Bachelor of Journalism in the COMU1140 Multimedia course gathered for pizza and soda, to celebrate the "Best of the Best" projects from each tutorial group. There were 13 projects overall that were voted to be the class' best work. The course assigns student to work in groups to create their own multimedia franchise. Winning pitches included dystopic futures, anti-bullying awareness campaigns, time machine travel, human sacrifices, and ibis overlords that have taken over UQ campus and more. Congrats to the students and their hard work over the semester!
Gender Studies Futures: Panel and Networking Event
Tuesday 29 May 2018
The Gender Studie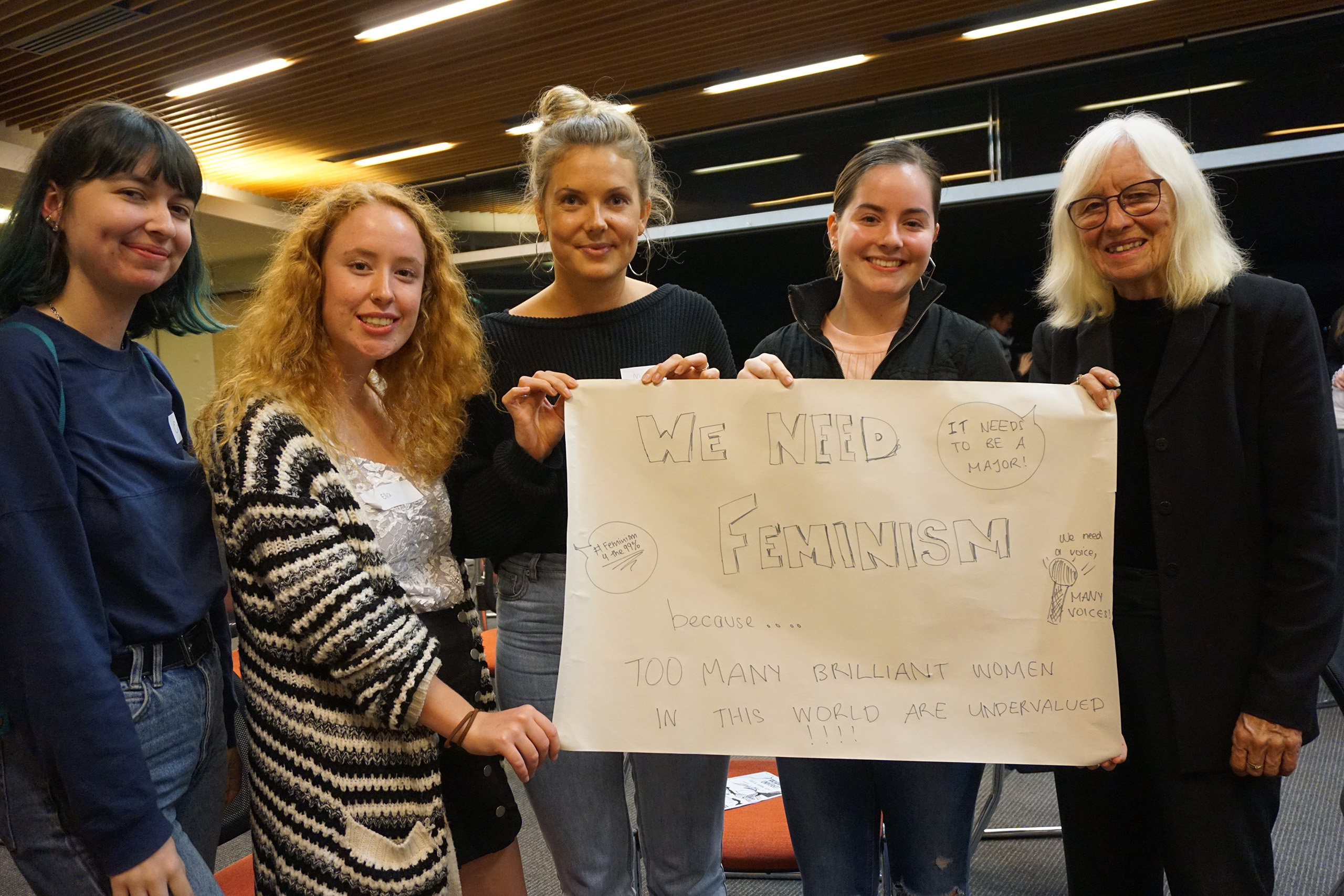 s Futures event included both an insightful panel discussion, and a chance for students to discuss in groups ideas surrounding gender and feminism.  The panel members included: Ana Borges, Psychologist & Chair for Women's Community Aid; Anna Carlson, Co-founder of Brisbane Free University & presenter at 4ZZZ; Leanne de Souza, Artist Manager & Advocate, MEGA Community (Music Equity Group for Action); and was facilitated by UQ Gender Studies Program Director Associate Professor Liz Mackinlay. They discussed why an appreciation of intersectional gender analysis is crucial to their work outside the university. It was really a great atmosphere as students mixed with one another as well as with the panellists, guest lecturers and Gender Studies staff. The room was buzzing and happy! For the final activity we asked students to get into groups and on a big piece of butcher paper write 'We need feminism because…..'. This was a wonderful way to end and to get the students to work together, build community as well as think about the importance of what they have learned in Gender Studies and why it is important to themselves and to the group. The feedback on the event was extremely positive and we hope to continue to do this as an annual event for Gender Studies students at UQ. Thanks to the HASS Student Futures team for investing in Gender Studies!
Bachelor of Social Science Pizza Lunch
Tuesday 29 May 2018
The BSocSci Pizza Lunch was an end of semester get-together for all Bachelor of Social Science students in the School to build a cohort experience. This event brought together first-year BSocSci students and staff members from Sociology and the School of Education. The annual Social Science Equity Bursary for 2018 was also presented by the UQ alumni representatives to a student winner.    
Disaster Capitalism Film Screening
A night with Australian award winning film maker Antony Loewenstein, and panel discussion with UQ's own Professor Peter Greste and Dr Heloise Weber
Thursday 26 April 2018
Around 80 students from the Masters of Development Practice, alongside undergraduate development students, and joined by staff and the general public, gathered to share food and drink, and watch the provocatively named 'Disaster Capitalism'. This documentary captures the capacious form of violence capitalism that so often swoops into post disaster zones. Whether it be in the conflict zone of Afghanistan, post natural disaster in Haiti, or in the wake of extractivist mining development, the story told about the consequences of disaster capitalism are the same: local communities are exploited for western capitalist gain. While local communities often bare the brunt of capitalist aid agendas, it is in local communities that hope also lies. Indeed, this film shines a light on the power of local communities - including women and young people, in driving a positive social change agenda. 
After the screening, Antony told the full lecture theatre of his experiences first hand in visiting these post disaster zones, and the risks and challenges of engaging in this kind of couragous documentary film making. He was joined by Peter, who also shared his experiences in speaking truth to power, and exposing the complexities of aid, development and global injustice. Heloise brought the politics of development to the analysis of aid and conflict, all of which made for a rich and lively discussion. 
Feedback from students indicated this was a lively and engaging evening, which provided a unique opportunity to think critically about the opportunities and constraints of approaches to development. The event also showed clearly that the issues we think through in lectures and workshops are also the issues that profoundly shape the lived experience of some of the most vulnerable communities on the planet.
Chinese Undergraduate Translation and Interpreting Major Lunch
Tuesday 27 March 2018
Students from the HASS undergraduate Chinese-English Translation and Interpreting Major met with final year students from the HASS Masters of Chinese-English Translation and Interpreting program for lunch to discuss their experiences of, and future plans in, studying translation and interpreting here at UQ. The event provided the undergraduate Major students with an opportunity to get together and build up their cohort identity, while gaining insight into the postgraduate coursework study of translation and interpreting and how it builds on their undergraduate studies, as well as learning about the various vocational pathways that are to be taken up by our Masters students, following their graduation this year. While many Masters graduates become professional translators and interpreters, some take up careers in allied industries such as business, trade, and language teaching. The students engaged in lively and interesting discussion between themselves and the host of the event, Dr Guy Ramsay, the HASS Convenor of the undergraduate Chinese-English Translation and Interpreting Major. 
Bachelor of Advanced Humanities (Hons) Welcome Event
Thursday 15 March 2018
Approximately 30 Advanced Humanities students in their 1st and 2nd year gathered for an afternoon of pizza and conversations about their degrees. Professor Julie Duck and Dr Jennifer Clement joined us to chat to students , and Isaac Holtby (2nd year Literary Student major) addressed the group to gauge interest in forming an Advanced Humanities social club. The response was positive and they are now forming a social club committee.
Bachelor of International Studies Welcome BBQ
Monday 19 March 2018
In Week 1 of Semester 1 2018, the Bachelor of International Studies management committee arranged a welcome/ welcome back barbecue for all students enrolled in the Bachelor of International Studies program. The barbecue provided an opportunity for students to meet other students, program and major convenors, professional staff associated with the program, academics teaching into the program and their own student representatives. They were made aware of services and support available to them along with opportunities to work together to build a cohort and coordinate student-led events, not least with the student representative committee (a member of whom was present at the event). The event was attended by a number of key staff, including acting Executive Dean of the HASS Faculty Julie Duck, program director Matt McDonald, Languages major coordinator Juliana de Nooy, and a range of others teaching into the program itself.