Weaving a Human Rights tapestry in Fiji's post election - an atrocity prevention strategy
Wed 17 May 2023

4:45pm

–

6:00pm
Venue
Global Change Institute (20), UQ St Lucia
With the Pacific increasingly a geopolitical hotspot, and climate change an existential threat, atrocity prevention in the region takes on new and critical meaning. Underlying social and economic inequalities, high rates of gender-based violence, and human rights issues remain risk factors in the region; additionally in Fiji, a history of political instability and ethnic tensions has left its legacy. After almost 16 years, Fiji's election in December 2022 saw a change of government, and with it, optimism that newly elected MPs will address human rights failings and work in partnership with civil society.
Join us to hear the Asia Pacific Centre for the Responsibility to Protect's Pacific Director Romulo Nayacalevu address the status of human rights and international law in his home country of Fiji, what the election means for civic discourse, legislation and transparency, as well as the local relevance of early warning, atrocity prevention and the Responsibility to Protect.
Guest Speaker - Romulo Nayacalevu, APR2P Pacific Director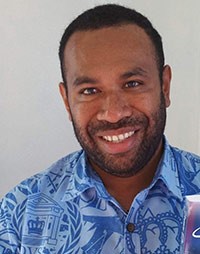 Mr Nayacalevu is an experienced human rights practitioner, trainer, lawyer and advisor to Pacific Island governments and NGOs, who has been active in advocating for human rights promotion and protection including the ratification of the Rome Statute among Pacific states, monitoring human rights and strengthening legislation to protect civil freedoms. Romulo previously worked at the Melanesian Spearhead Group Secretariat, the Pacific Community's Regional Rights Resource Team and the Office of the United Nations High Commissioner for Human Rights, Regional Office for the Pacific.
Event details 
Date: Wednesday 17 May 2023
Time: 4.45pm for 5–6pm
Venue: Room 275, Global Change Institute (20), UQ St Lucia 
Enquiries:
Centre Manager, Asia Pacific Centre for the Responsibility to Protect
Telephone: +61 7 3346 6435
Email: r2pinfo@uq.edu.au