Second Sight: Witchcraft, Ritual, Power, brought together artists who conjure ideas related to witchcraft, sorcery and magical practices. This research exhibition, which included new artistic commissions and texts, was formed through a partnership between UQ Art Museum and UQ's Institute for Advanced Studies in the Humanities (IASH). ASRN members Anna Johnston (IASH) and Holly Arden (UQ Art Museum) collaborated with UQ colleagues and Australian artists".
About Events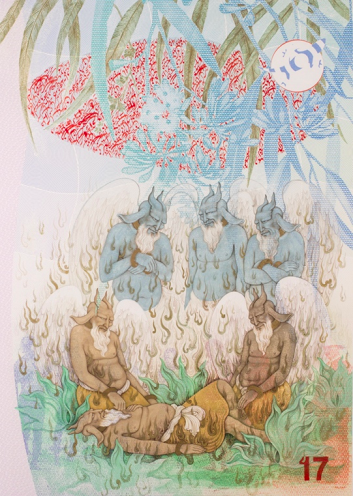 Khadim Ali
The Arrivals #4, 2016, 
Inkjet, gouache and gold leaf on hahnemuhle paper Image
100.0 x 70.5 cm
Collection of the University of Queensland, purchased 2017.
2017.15
Reproduced courtesy of the artist and Milani Gallery, Brisbane.
Photo: Carl Warner