The 2020 Fryer Lecture in Australian Literature marks the centenary of the birth of the great Aboriginal poet, activist, and educator, Oodgeroo Noonuccal (1920–1993).
Acclaimed writer Alexis Wright will include her personal reflections on the difficult time for Aboriginal people in which Oodgeroo lived and worked, a period that Alexis' mother lived through in far North West Queensland.
The lecture will discuss Oodgeroo's influence on Alexis, and others who shaped her artistic vision from the Aboriginal world and beyond. In posing the question, In times like these, what would Oodgeroo do? Alexis will consider the guidance that she herself would offer aspiring writers – in times like these.
About Events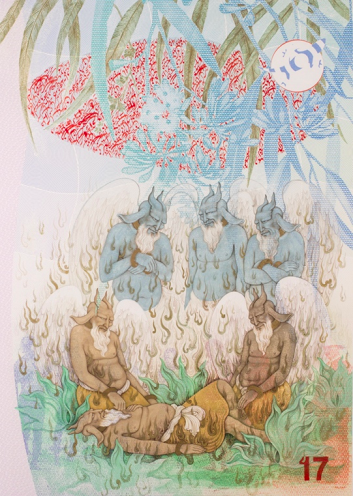 Khadim Ali
The Arrivals #4, 2016, 
Inkjet, gouache and gold leaf on hahnemuhle paper Image
100.0 x 70.5 cm
Collection of the University of Queensland, purchased 2017.
2017.15
Reproduced courtesy of the artist and Milani Gallery, Brisbane.
Photo: Carl Warner