What is HASS Crew?
HASS Crew is a student-led initiative creating leaders, community and belonging. The HASS Student Futures team have adopted a collaborative and consultative approach, with a primary focus on engaging current students in the project.
This initiative aims to improve HASS undergraduate and postgraduate coursework students' sense of belonging within the Faculty by:
Facilitating meaningful and regular peer-to-peer interaction between HASS students.

G

uiding students in determining study pathways that align with their own career and life aspirations.

Informing a sustainable approach to welcome and induction activities within the HASS Faculty.
What's coming up for HASS Crew?
HASS Fair: Dumplings and Disciplines
First year and still trying to find your feet? Don't worry, the HASS Fair is perfect for you! Jam packed with games, prizes and free dumplings; there are plenty of opportunities to discover more about the disciplines that the HASS Faculty has to offer!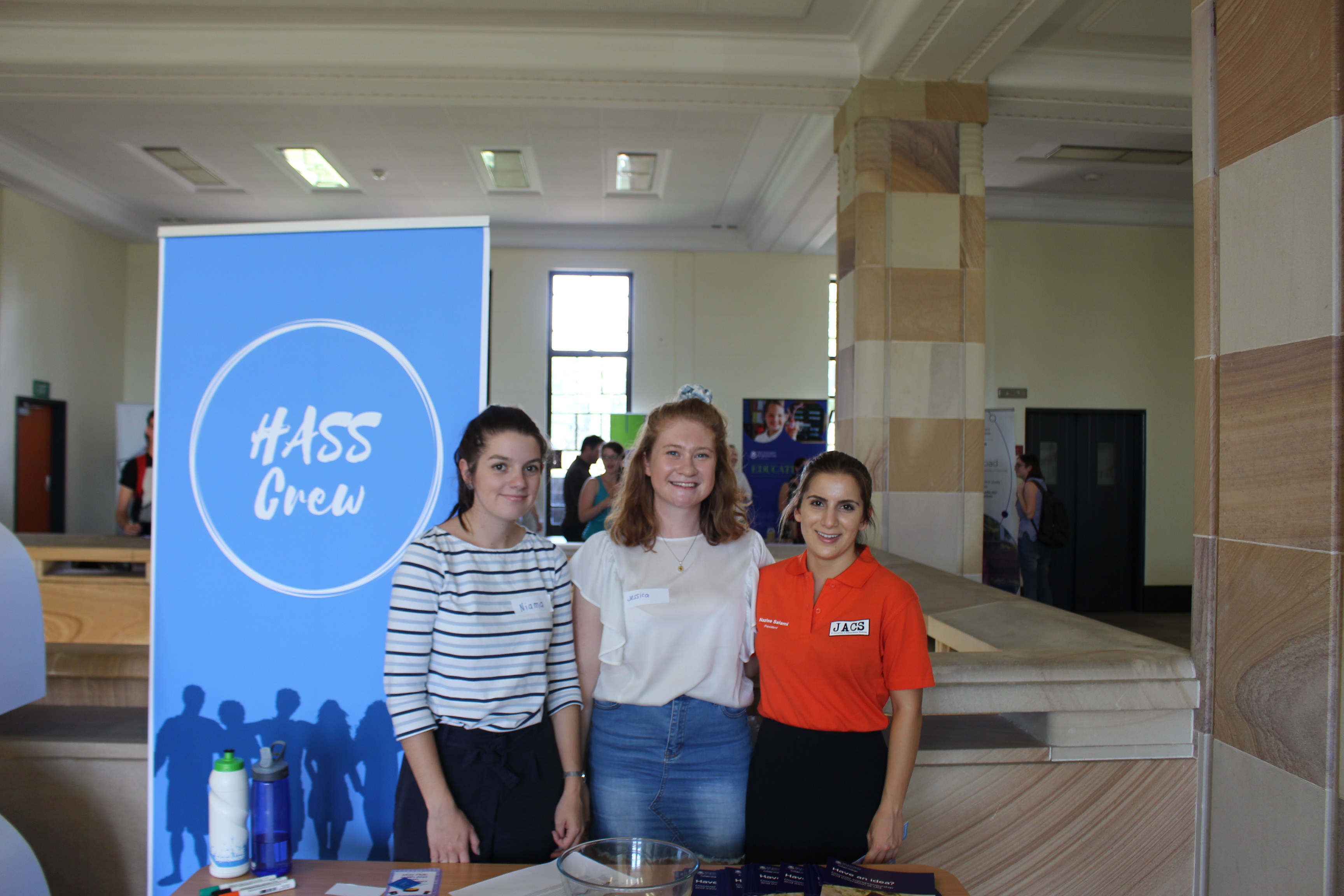 Date: 22nd March, Thursday
Time: 3.00-4.00pm
Venue: Forgan Smith Bldg, Level 3 Foyer
Battle of the Schools Debate
In a zombie apocalypse, who would survive: the smart kids from Education or the deep thinkers of Philosophy? Join us in an epic debate as staff from each school try to convince you that they are the best in HASS!
Date: 17th April, Tuesday
Time: 6.00-8.00pm
Venue: Forgan Smith (1) Room E109
1,5,10 Alumni Networking Evening
Not sure where you're going or how to get there? Then this is an evening you wouldn't want to miss! Come join us for a night of chats and chances to mingle with industry professionals. Learn what our incredible alumni are doing 1, 5 and 10 years after graduation!
Date: 2nd May, Wednesday
Time: 6.30-8.30pm
Venue: UQ Centre Exhibition Hall
To keep up to date with all the HASS Crew news you can follow us on Facebook: @ExperienceHASS