Peter Tesch - Bachelor of Arts (Honours)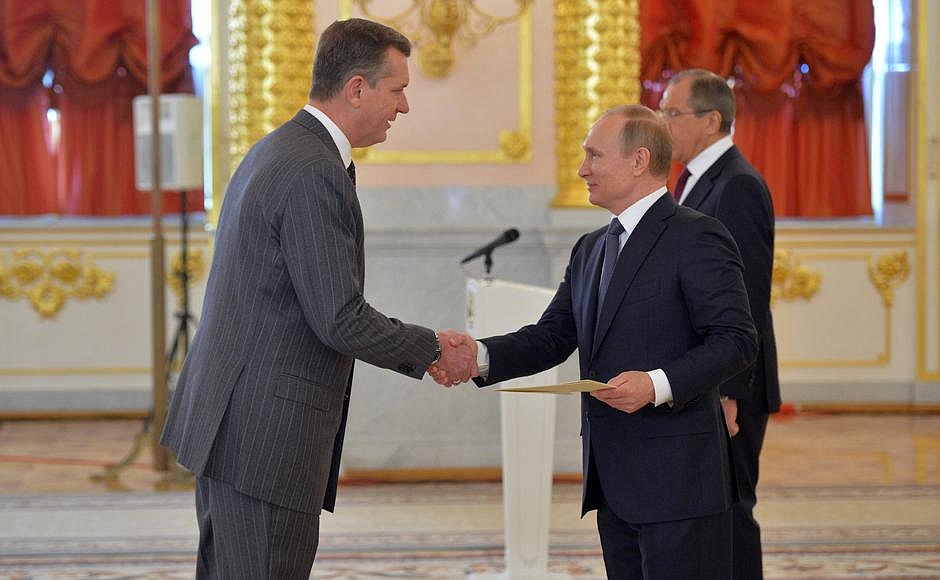 Australian Ambassador to Russia
With almost 30 years of international diplomacy under his belt, Mr. Tesch reflects on his colourful career as Ambassador to Germany, Deputy Permanent Representative to the UN in New York and Ambassador to Kazakhstan, and how his arts and languages studies at UQ helped him to get there.
Tell us about your career highlights.
It is harder than you might think to single out specific instances in a career which inherently is full of diversity, challenge and interest. I have served in Moscow, Berlin, New York and Kazakhstan (in the pre-Borat days), on the staff of the federal Minister for Trade and in the department's State Office in Melbourne; I have headed the department's IT branch, led our participation in two world expos in cities as different as Hannover and Shanghai, dealt with arms control and disarmament and worked on trade and political issues on the Europe desk.
Being able to apply my university studies and qualifications directly in my professional life has been incredibly satisfying. As someone of German heritage, it was fantastic to spend four years as Ambassador in Germany and have a hand in strengthening the institutional and political ties between our countries. And to return now to Moscow as ambassador, having served here as Third Secretary on my first posting, in the late 1980s, is more than I could have expected.
That was a unique time, of course, and it probably has to rank as the highlight of my career if I had to pick just one. Under Gorbachev, the Soviet Union experienced an upheaval that resonated throughout the world. Europe sensed significant change afoot, but no one anywhere had any real appreciation of what it might mean, let alone forecast what actually happened. 
As a Russian speaker, I was able to take advantage of the relative liberalisation which Gorbachev's policies unleashed. I travelled a lot in the country and met many fascinating people whose lives had been so different to my own – painters, authors, social and political activists, some of whom had spent years in the gulags and carried the health and emotional scars of that experience. I visited Vladivostok, which had been a 'closed' military city until then and remember flying for ten hours over a snowy landscape and thinking 'this is STILL Russia …'.  Even for an Australian, accustomed as we are to distance, that was confronting.
I saw Paul Simon and Ladysmith Black Mambazo perform at an open-air concert in Gorky Park – could anyone imagine a more exotic and unlikely combination?
My ambassador and I took a two-week car trip through Russia to Georgia and back, visiting places that were virtually unknown outside the USSR at the time, but which most people by now would recognise by name, including Chechnya and South Ossetia, where we met people whose hospitality, sense of dignity and self-worth was pronounced and profound.  I also was able to visit Volgograd, the former Stalingrad, which had been the focus of my Honours thesis at UQ.
"One drab, damp August morning in 1991 I woke to hear classical music on every Moscow TV channel and almost all radio stations and knew that something was up.  It was the first day of the attempted coup against Gorbachev, and it marked the start of 72 hours of sleeplessness..."
One drab, damp August morning in 1991 I woke to hear classical music on every Moscow TV channel and almost all radio stations and knew that something was up.  It was the first day of the attempted coup against Gorbachev, and it marked the start of 72 hours of sleeplessness as we tried to work out what was happening, rang and met contacts, reported to Canberra and wondered whether this was the end of the end of the Cold War.
I walked the barricades at night, talking to ordinary citizens who had rallied around Yeltsin at the 'White House' – the seat of the Russian parliament – and who had chosen spontaneously to resist the coup plotters. An embassy colleague and I talked our way into the White House and spent several tense hours there, speaking with members of the Russian government and Yeltsin allies. 
And on the second night, from my apartment just across the river, I heard small arms fire and, like everyone else, tried to make sense of what was happening. Dawn brought cautious confidence that the coup had failed – along with a phone call from the Courier Mail, which destroyed my brief attempt at sleep with the request for "a Queenslander's perspective on events". Good old Curious Mail!
How did you get started in your career?
I was lucky. I fell into the Foreign Service almost by chance. I finished school knowing I wanted to carry on my German study and pursue foreign languages at university, but I had no master plan. I chose Russian out of a general interest in the country, its history and culture, and began 'RU101' on a Monday. I was fortunate to have a first-year lecturer – Dr Maria Kravchenko – who was an outstanding, dedicated and patient teacher of Russian to first-years. But the two-hour lecture spanned the lunch break, and I confess that, on occasions, a classmate and I found the lure of 'just one more' at the Royal Exchange Hotel in Toowong more persuasive than another dose of irregular Russian verbs! Wise in the ways of students, Masha never made a fuss, and we became and remain good friends. I owe a lot to her and her colleagues in the then Russian department, headed by the late Professor Boris Christa, as well as to the lecturers and tutors of the German department, which Professor Manfred Jurgensen led throughout my four years at UQ.
Realisation dawned at one point in third year that I had to find a way to make a living out of what I was enjoying doing at UQ. So I applied for a number of government departments as a first step – foreign affairs, trade (they were separate portfolios then) and defence. I was offered jobs by foreign affairs and defence, but never heard back from trade. It didn't matter, because Bob Hawke merged the two portfolios after I joined foreign affairs in 1987, so I got two for the price of one.
What have been the biggest challenges?
At a personal level the recurrent upending of home life to relocate to and from overseas does take a toll. Even though service abroad enriches, it also disrupts, and it is the lesser known side of what always seems to outsiders to be a never-ending glamour circuit. It hits families with children and two working parents particularly hard, but we are all volunteers and we roll with it. People also envy the constant travel, but that allure wears off very quickly when you emerge from a 28-hour flight in an alien city and have to front the conference, negotiations or other meetings a few hours later, alert and ready to go.
Many of my colleagues have had far hairier times than I, and some, sadly, have lost their lives in accidents. Risks to health and physical safety are inherent in our work overseas, even more now terrorism is infesting the world. I wouldn't want to overstate this, but the more time I spend abroad, the more I appreciate the quality of life in our stable and tolerant homeland.
How important have languages been in your career?
There's no doubt that knowing German and Russian has been a boon to my career. In my first year in the department, in 1987, I found myself interpreting at Australia-GDR trade and economic talks in Canberra despite knowing little of the technical subject matter (in either language). I survived, but the GDR managed to hang on for only a few more years before succumbing to the impact. I also spent an odd two weeks in a mini-van with some visiting Soviet agricultural scientists, driving through South East Queensland and New South Wales, visiting beef and dairy farms and discovering a lot about what goes on in animal husbandry and learning the Russian for 'artificial insemination' which, oddly, had not been part of the UQ curriculum.
A great thing about the Department of Foreign Affairs and Trade (DFAT) is that it invests a lot in language training for staff going on posting to places where language skills are essential to the role. The department doesn't see languages as a prerequisite for recruitment, but, when I chaired the graduate recruitment process for two years in the mid-2000s, I was struck by how the vast majority of applicants – and we are talking about several thousand each year – had some degree of proficiency across major languages.
What advice would you give students at UQ?
Reflecting upon almost 30 years in DFAT, I would say: study what interests you and be good at it; be open to the unusual and unfamiliar; understand that slog and grind is part of all jobs and that opportunity appears in many guises, even if it seems well-camouflaged at the time.
Like all government agencies, DFAT is interested in rounded people who haven't spent their lives in splendid isolation in one narrow stream. Almost all the people we recruit – certainly in the general intakes - have knocked around a bit, have social and other interests outside their core focus, and are sociable types, adept at dealing with strangers. When you think about it, that's what our job in DFAT basically is about.
Nowadays, policy-making and implementation is not the preserve of an exclusive cardigan-wearing caste. Government is focused on innovation, agility and results - and never mind the sniggers from the tabloids; I have not encountered such a consistently high calibre of professionals anywhere outside government, save perhaps in the ranks of the Australian military.
Feature Image: Russian President Vladimir Putin receives diplomatic credentials from new Australian Ambassador to Russia, Peter Tesch in the Grand Kremlin Palace in Moscow, April 2016.  Photo courtesy of www.kremlin.ru.
Story Image: Peter Tesch.