Emily Donald worked with the HASS Student Futures Team on various employability projects in 2017. Emily shares her experience in working with the Student Futures team and her advice for other HASS students to "take advantage of every opportunity that comes your way, because you never know where it might lead."
Towards the end of 2017, I joined the Student Futures team as a student partner. I was initially hired to help with just one aspect of a bigger project, but this led to a lot of other opportunities. The position with Student Futures provided the perfect environment for me to improve my writing and analytical skills. It also offered me a valuable glimpse into the behind-the-scenes aspects of faculty administration and initiatives. But most importantly, being a student partner allowed me to work on projects that emphasised collaboration between different groups of people within the university. I worked with academic and professional staff, as well as students from all year levels and HASS disciplines. This taught me a lot about how to effectively communicate ideas across disciplines, departments, and professional positions.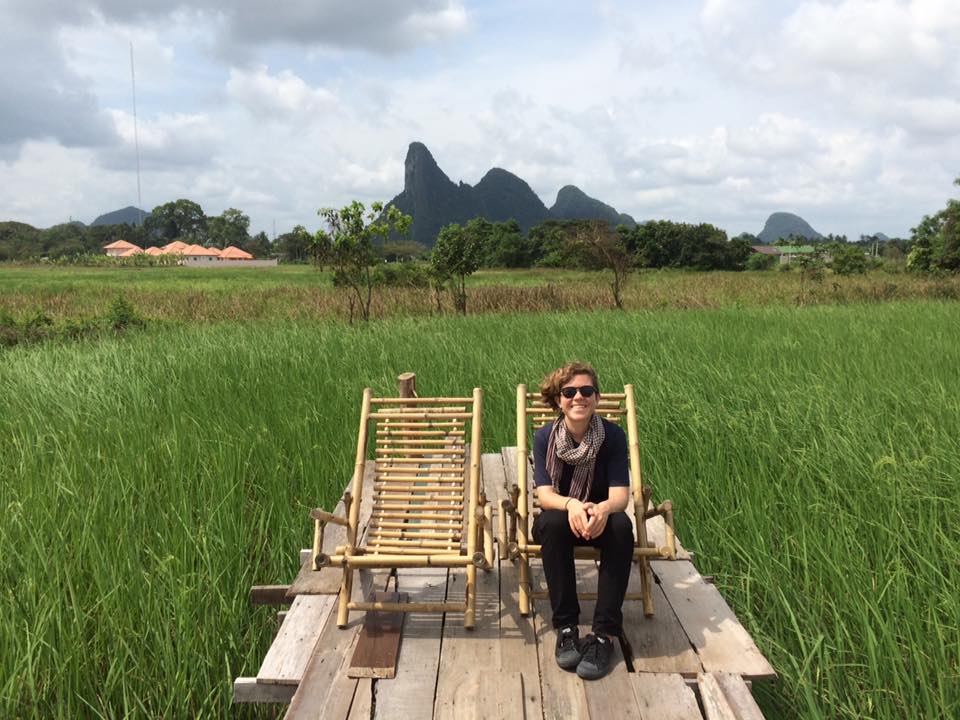 I was assigned several different tasks, all of which spoke to my strengths as a humanities student, but also encouraged me to practice other styles of writing and presenting information. One project entailed writing a summary report of qualitative data taken from graduate outcome surveys, the answers provided by recently graduated students of UQ's Bachelor of Arts program (BA). I was given access to a large amount of information, and was then expected to analyse, extract, and present that information in a coherent and concise way. I found this work very satisfying, because it had real importance, it had the potential to bring issues that students felt were important to the attention of the faculty. My report was about using student feedback to inform decisions made at the highest level of the university administration.
Another project I worked on also emphasised student voices, but on a smaller scale. I facilitated student focus groups to inform the development of a new minor, a new set of four courses that would be available through the BA program. I really enjoyed these focus groups, getting to hear directly from students about what they looked for, and wanted from, a course was fascinating. And, again, the students' input had real value and impact for the development of those courses. My role was to collect data from the focus groups, record and analyse the students' ideas and opinions, and then transform that information into a concise piece of writing that would contribute to the bigger project of creating a new and exciting BA minor.
These tasks exposed me to the ways in which students can affect change in how their education is delivered and developed. It is easy to feel powerless as an undergraduate, as you manoeuvre yourself through a vast program like the BA, within an intricate and sprawling institution like UQ. But the Student Futures team, by emphasising collaboration between students, professionals, and academics, offer a platform for students to engage with the faculty, and gain insight into how decisions are made, how students can inform those decisions, and just how valuable the student perspective is to administrators, academics, and other education professionals.
Learning to work and communicate effectively in a team, and being treated as a valued member of that team, is perhaps the most important thing I gained from my time with Student Futures. I was part of weekly meetings, which allowed all team members to update the group about how their own project was progressing. These meetings were a great chance to field suggestions and ideas, and to hear from others about how they were tackling one task or another. In terms of my own future employability, I think my experience as a student partner will go on to inform how I communicate with others - it will help me to approach collaborative tasks with positivity and openness, because I have seen the benefits that come from sharing ideas and strategies with people from all different areas of work.
I would encourage other students to keep an eye out for these kinds of opportunities. I became involved in Student Futures after answering an email calling for student participants for a focus group. For students who really want to make the most of their time at UQ, I think it's important to stay connected to the faculty, and to tame your student email inbox so you don't miss important messages. But most importantly, I think you need to keep an open mind about whatever opportunities come your way, because you never know where it might lead.
Emily Donald
Former Student Partner, Employability
B Arts (Honours) in History
Faculty of Humanities and Social Sciences
29 March 2018
Follow HASS Crew on Facebook to stay connected with other HASS students.
Submit your own story:
Are you a HASS student with a story to tell? We want to hear from you!