It's not everyday that you find yourself in a hostage situation and held at Nerf gun point by eco-terrorists in very stylish jackets. This is where the captivated audience found ourselves in UQ Drama's opening night of "Kill Climate Deniers". 
We were transported to Parliament House where Fleetwood Mac's spectacular performance of "Go Your Own Way" was cut short by the intrusion of an eco-terrorist organisation led by Catch (Blake Youngs), demanding the Prime Minister take tangible action against climate change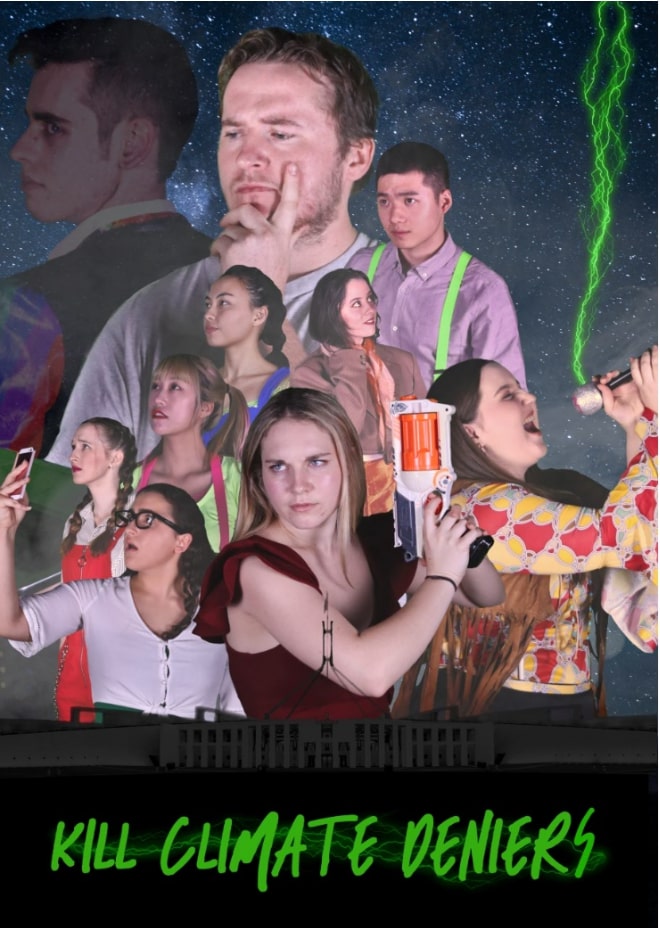 . 
Our only hopes for survival were environment minister-turned-combat expert, Gwen Malkin (Jacinta Maxwell), disaster, and her press advisor, Georgina Bekken (Lucy Rayner-Toy), desperate to increase Malkin's Instagram following and ensure the parliament takeover had a good soundtrack.
The sheer talent and creativity of all involved made for an engaging, absurd, and unique approach to the divisive topic of climate change
David Finnigan's play was directed by Tom Hill and performed by the students of DRAM2200. While the closure of the Schonell Theatre was ill-timed for the students' final assessment, the actors adapted well to the space of Women's College Playhouse. The sheer talent and creativity of all involved made for an engaging, absurd, and unique approach to the divisive topic of climate change. 
The play gives insight into Finnigan's experience writing the play by including the playwright character, Finig (Joseph McDonnell), who interrupts the plot to share the criticism Finnigan received. While the play was of course a strong proponent of combating climate change, the real point was to express the anger of activists at politicians for their continued denial of climate issues, delay in implementing climate solutions, and disregard for the concerns of the public. UQ's drama students impressed all with their performance of this political satire-meets-action film and gave us a new appreciation for the urgency in fighting climate change and the inevitability of climate deniers. 
The vitality of the production was showcased in the costuming. I met with the Head of Costume and Makeup Department and cast member, Harmony Barath, after the show to learn about her design approach.
"We had a conversation about the feel of the play and the characters. I asked the cast about their opinions on how they saw their characters. For example, Catch's whole thing was Die Hard and Bruce Willis. The inspiration for his costume came from graffiti and protest signs. However, we needed to make it more badass and bigger and colourful. Tim's vision was all about big colours and massive hair. I aimed to give the eco-terrorists a punk rock vibe to clash with the jewel tones of Gwen Malkin and Georgina Bekken."
"The punk rock vibe stems from the Harley Quinn inspiration I had for the character Throat (Queena Liao). This costume took forever to put together as it had a lot of adaptations." She was also inspired by Effie Trinket from The Hunger Games for Beverly Ile's (Heidi McCormick) costume. Her least favourite costume was for Lucky (Jinyi Wu) because he had so many changes.
This group of actors worked 14 hours a week and then almost everyday when they were rehearsing to present this live performance. Their efforts and dedication shined through in a thoroughly enjoyable night of theatre with all too accurate portrayals of Australian politicians and comedic use of audio visuals. 
The talent of UQ Drama students is to be commended and I look forward to any future public performances this group has.
Also, big props to the live-feed camera operator.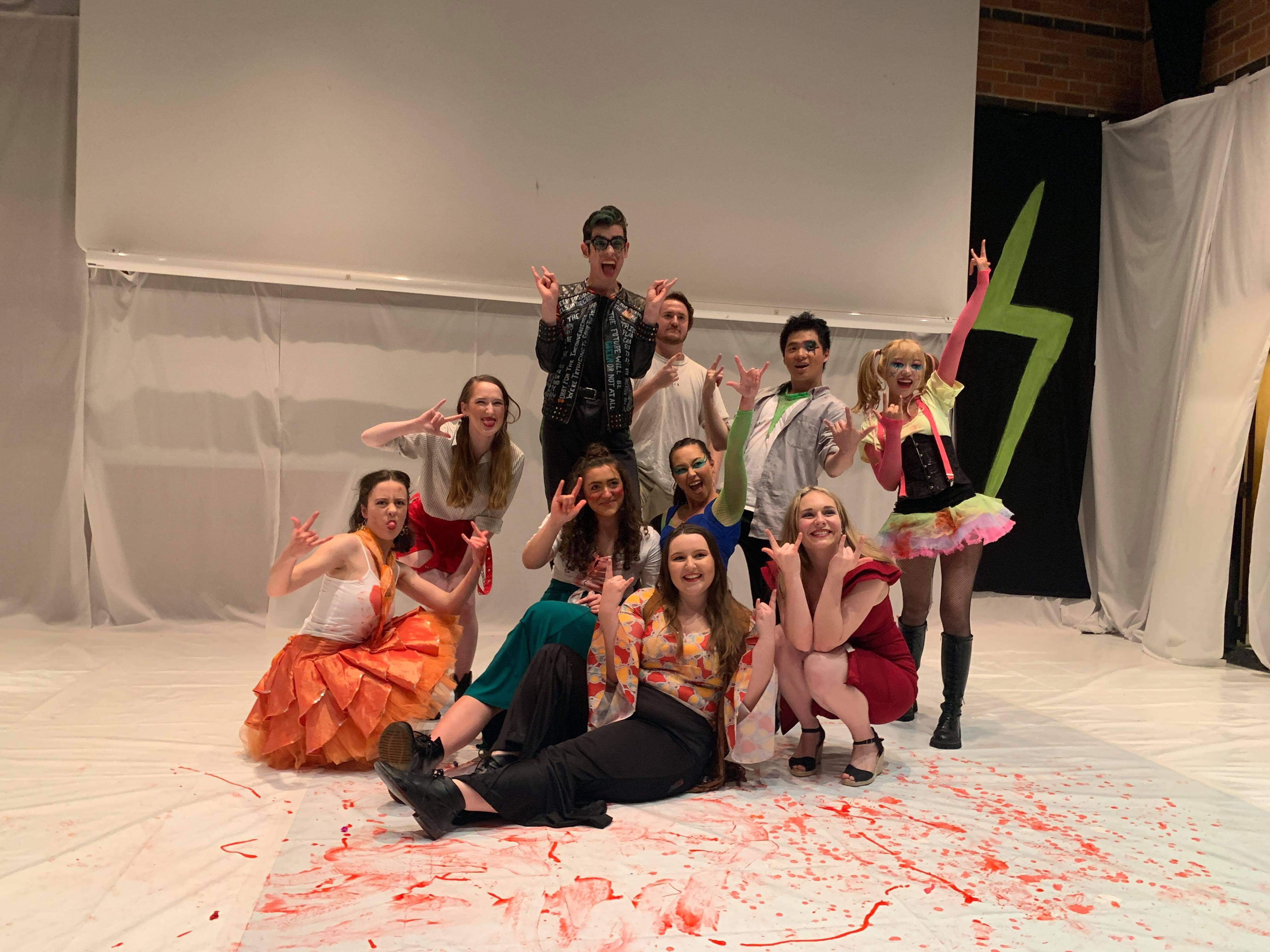 By Courtney Smith