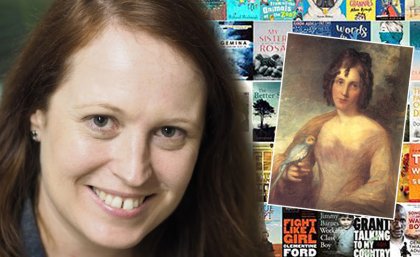 A "naïve young girl…who defied convention by embarking on a trailblazing expedition" documenting Australia's wildlife is the subject of a book by a University of Queensland graduate.
In her debut work of fiction The Birdman's Wife, UQ School of Communications and Arts alumna Melissa Ashley has reimagined the life of artist and illustrator Elizabeth Gould.
"It's a creative interpretation of her life capturing Australia's unique birdlife," Ms Ashley said.
"Elizabeth was very much a woman overshadowed in history by her husband John Gould, often credited with being the father of Australian ornithology.
"She juggled demands as a wife, lover and mother to an ever-growing brood of children with her prolific career relaying the sublime beauty of birds the world had never seen before.
"Her legacy was well eclipsed by the fame of her husband, despite her breathing life into hundreds of exotic new species through lithographs, including Charles Darwin's Galapagos finches."
The Birdman's Wife began as a PhD project for Ms Ashley, but the "labour of love" eventuated into a nomination for the Indie Booksellers' 2017 Book Awards.
In the author's note she gave credits to UQ supervisors Associate Professor Bronwyn Lea and Dr Melissa Harper, the School of Communication and Arts, and acknowledged funding from the UQ Graduate School.
So inspired was Ms Ashley by bringing the life of Elizabeth Gould to print, she even volunteered as a taxidermist at Queensland Museum.
"Elizabeth was a woman ahead of her time," Ms Ashley said.
"She was – and deserves to be remembered as – so much more than the lady behind the man."
Born in Ramsgate, England as Elizabeth Coxen in 1804, she died at age 37 not long after the birth of her eighth child.
Elizabeth spent some of her final years in Australia, based in Hobart, before returning to England.
Her brother Charles Coxen also immigrated to Australia and was a member of the Queensland Philosophical Society.
Both the Gouldian finch and Mrs Gould's sunbird were named in Elizabeth's honour.
Author Ms Ashley will appear at Riverbend Books on Thursday, 16 February at 6.30pm to discuss The Birdman's Wife.
Other events on her radar include the Perth International Arts and Writers' Festival on 24-25 February and the World Science Festival at Queensland Museum on 25 March.
The Birdman's Wife is published by Affirm Press.