"We need to find ways to be looking at remote work because like everything else digital, it just moves a lot faster than regulation."
Describing her research as "transnational, online, justice", postdoctoral research fellow in Digital Cultures and Societies (DCS) at The University of Queensland (UQ) Dr Andrea Alarcon was first drawn to pursue a career in research whilst undertaking her postgraduate studies at Oxford University.
Pursuing a Master's in the Social Science of the Internet at Oxford gave Dr Alarcon her first insight into academia.
"That's the first time that I had more of an encounter with academia," said Dr Alarcon.
"I realised this is something that people do. It was very interesting as I could learn for a living."
Interested in research but unsure of what she wanted to do career-wise, Dr Alarcon moved back to Colombia – where she is originally from – and soon found herself again drawn to the world of research and academia.
"I was still trying to figure out what I wanted to do, but I was lucky enough to be able to do a research assistantship at the Social Media Collective," she said.
Surrounded again by a group of academics whose research explored power and identity, and values embedded in social-technical systems, the research spark continued to grow within her.
"I started to see where I could contribute."
Interested in pursuing a doctorate, Dr Alarcon returned to the US, where she completed her PhD at USC Annenberg.
Since then, she started working in the area of online labour with her mentor, Mary Gray.
"She got me into this space, which I found very interesting."
Explaining how she came to pursue a post-doc in DCS at UQ following her PhD, Dr Alarcon said it was perfect for what she wanted to do.
"The initiative is interdisciplinary, so are the post-docs that are here, and the research is at the forefront of looking at questions of power and online labour, which is what my book project is about."
Elaborating on her book project – she's currently completing the book proposal – Dr Alarcon said it's an ethnographic online and offline study on what we know popularly as 'digital nomads'.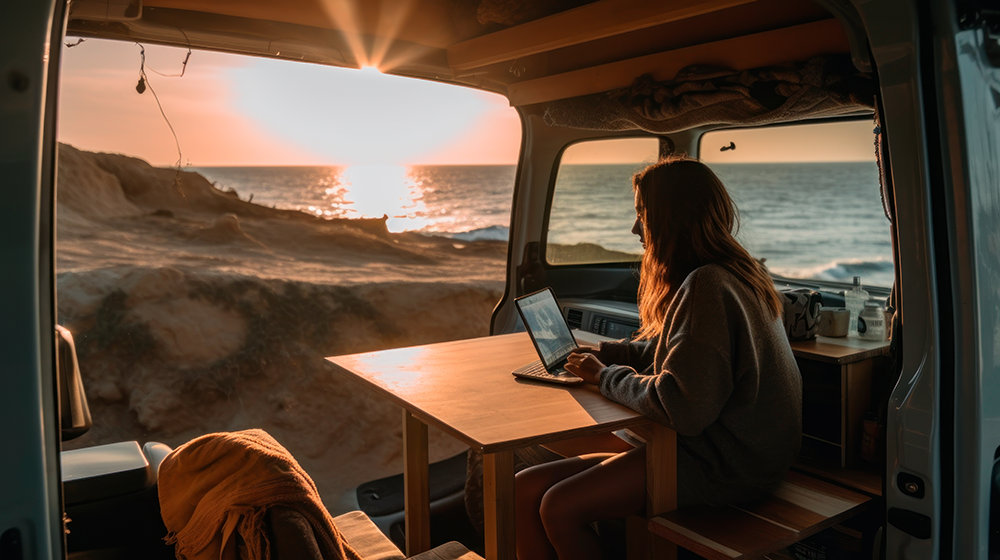 "I call them location-independent workers, mostly from global north countries who are working from global south locations," she said.
Focusing her work on Colombia, Dr Alarcon said her book project aims to ground this discussion of the global and the online, which often makes us forget about the territory and the culture that sits within these arrangements.
"I've been focusing on the role of identity when it comes to how online work is arranged because it's still a kind of unregulated space and open market in a sense," said Dr Alarcon.
"There are the main platforms that we know about, and then there are people finding work via Facebook groups and networks that exist, and all of these different iterations of things that are happening.
"I'm interested in the specificities of that and how identities are used and created and recreated when it comes to what work you're able to get [within] these online 'wild west' spaces."
Dr Alarcon said her book project hopes to answer the primary research question: How are arrangements of individualised remote work being organised?
"The aim of the research that was conducted as part of the book project was to uncover what organisational forms, technologies, tactics, subjectivities, practices, performances and ideologies, and world orders are deployed to construct remote work arrangements; how are specific social encounters intertwined with communication technologies; and how identities are created and recreated."
While she's working on her book proposal, Dr Alarcon said she has also proposed a future research project stemming from her book project, which will look at virtual assistants.
"I'm not referring to Alexa or Siri, I'm referring to people who are doing [virtual] assistant work."
Speaking more broadly about her research and the impact she hopes to have within the digital cultures and societies space, as well as the rise of digital nomads, Dr Alacorn said full-time employment doesn't exist as it used to, a situation that was highlighted especially throughout the COVID-19 pandemic.
"What COVID-19 did, in a way, was highlight a lot of the issues that were already happening.
"It showed us how our existing economic arrangements were not working and served as a bit of a wakeup call."
Dr Alacorn said the idea of digital nomads and digital employment is becoming increasingly relevant.
This increasing relevance makes her research work within DCS critical to future discussions, policies, and key decisions around individualised remote work arrangements.
"We need to find ways to be looking at remote work because like everything else digital, it just moves a lot faster than regulation.
"So hopefully, we will be able to contribute to these discussions as they emerge."