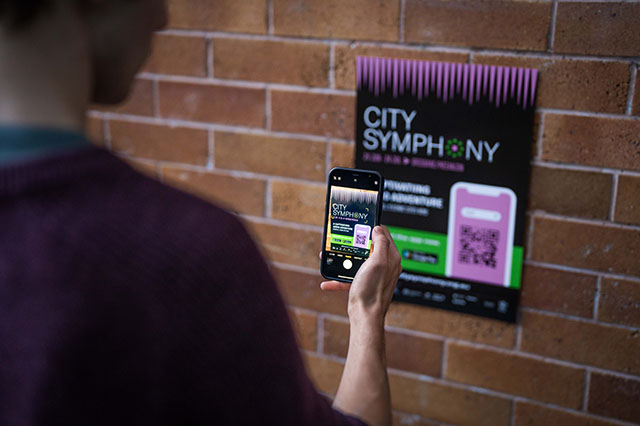 City Symphony is an augmented reality (AR) music experience overlaying Brisbane City, Australia spearheaded by Dr Eve Klein. The mobile app responds to a listener's location, orientation, and real-time environmental data. Music and story content is shaped by these interactions, creating unique music mixes and revealing stories, narrative journeys, and sonic games as the user walks through Brisbane City. Brisbane is treated like an open-world game space with sound and music enticing exploration and interaction.
Co-created with 850 artists and community participants, including UQ creative writing researchers Helen Marshall and Kathleen Jennings, City Symphony is an invitation to explore Brisbane on foot, and to experience a well-known city through new eyes and ears. The symphony features music from local composters, a welcome to country, stories of Brisbane's past and present, bird sounds, poetry, historical moments, as well as fiction that imagines a post climate apocalypse future.
The Challenge
City Symphony was created with explicit placemaking goals in mind and presents a view of Brisbane on behalf of its community. Brisbane is Australia's third-largest city and has a diverse population. Like all international cities, it faces challenges of globalisation, sustainability, and social cohesion. City Symphony uses music and sonic storytelling techniques to unpack Brisbane's past, present, and future, and seeks to foster positive social change via empathy and engagement.
The implication of City Symphony as a placemaking experience is that it is in some way representative of Brisbane, its history, its future, and the people who live and have lived there. The artists and organisations involved in such projects decide how to represent places and people, often with the intention of shaping the perception of those people and places towards goals such as urban renewal, social transformation, or tourism. Creators of mass public artworks and experiences have a responsibility to ensure that the representations they craft are responsive to and respectful of the environment and people being depicted and are not merely exercises in place-based rebranding.
The Solution
Like all complex places with competing histories and stakeholders, there is no coherent or straightforward depiction of Brisbane. Given this, the creators decided to approach curation in a bespoke way for each location — they felt content focus and structure should emerge from each site's specific environment and community. Consequently, a formal curation process was developed, along with an extensive series of community workshops which were hosted to craft the themes, narratives, and content presented in City Symphony.
Another important consideration of placemaking arts activities is that they be broadly accessible to the people being represented. The City Symphony's project team acknowledged that inclusion and exclusion needed to be formally managed, so an iterative and cyclic process of creation founded on discussion, reflection, experience, and feedback was deployed as part of each project stage. For City Symphony, this led to the structural decision to release the app as a free download, make it cross-platform, and support older generations of mobile phones.
The Impact
City Symphony's artistic goal was for people to look up from their phone screens, and listen to the city, its music, its story, and its song. The final content represents the rich diversity of Brisbane and its people, with experiences reflecting First Nations, LGBTQIA, middle-Australian, intercultural, youth, elderly, environmental, historical, and speculative perspectives. The representations of Brisbane are not exhaustive, but are reflective of the people who participated in the project's creation.
By designing a time-based, location-reactive experience, the creators hope to encourage repeated site visits, continued participant reflection, and ongoing community contribution on what Maiwar, Brisbane's most significant environmental feature, means to its people. By asking contributors to address the river as Maiwar rather than its official English-language name, they are also encouraging reflection on the enduring Aboriginal custodianship of the land.