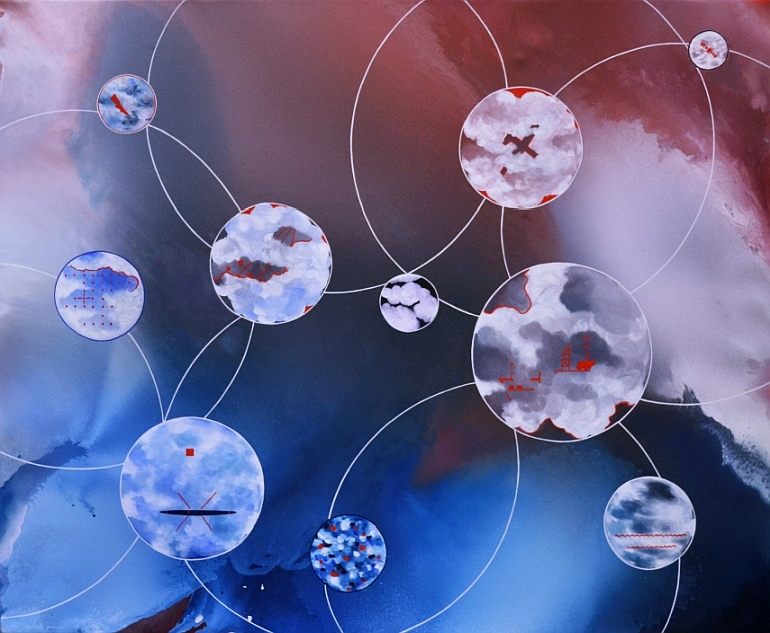 Kathryn Brimblecombe-Fox is a visual artist and researcher. Her work is driven by a keen interest in the risks, even cataclysmic risks, of accelerating developments in contemporary and emerging technology. Her creative painting practice and university research are influenced by aims to stimulate new imaginational, literal, critical, and metaphoric perspectives of humanity's current and future technological endeavours.
Since 2015, as a result of her Master of Philosophy research, Kathryn has focused attention on militarised technology. Her current PhD creative practice-lead research project is an examination of increasing military interest in the electromagnetic spectrum (EMS), as an enabler of technology, a type of fires (weapon), a manoeuvre space and a domain. EMS frequencies, particularly radio to microwave frequencies, are pivotal for contemporary technological connectivity, interconnectivity, operability, and interoperability. Given the military – civilian shared nature of the EMS, the militarise-ability of civilian technology in a network-centric environment is a concern.
The Challenge
An aim, in Kathryn's creative practice, is to make visible those aspects of contemporary technology, war and society that are normally invisible, for example, signals carried by EMS frequencies and instructional algorithms. She uses paint to expose the normally invisible, to map what she 'sees' as an insidious signalic techno-colonisation of landscape from Earth to orbiting satellites.
To expose this insidious occupation Kathryn paints, for example, strings of binary code, wave patterns, symbols for light-speed and photons, and interconnecting 'cloud' circles. Kathryn often places these elements with material hardware such as drones, robotic quadrupeds, satellites, munitions, mobile phones and other military and civilian devices. Varying combinations of visible and normally invisible elements are visualised in cosmic-like scapes that invite viewers to 'fly' in imagination. These new imaginaries stimulate novel questions, insights and speculations that challenge existing paradigms and future hopes.
The Solution
Kathryn draws upon multiple disciplines, including art history, international relations, war studies, cosmology, cultural and critical studies. Additionally, she seeks technical details and information to ensure the integrity of written and visualised speculations about technology and war.
As a medium, painting does not rely upon digital or cyber technology for creation, exhibition, or storage. This allows a critical distance from the technological systems Kathryn critiques. It also means that her activities do not feed data back to the system. Distance creates space for imaginational flight, and the novel, but informed, speculations and perspectives this can stimulate. Kathryn calls this 'imaginational metaveillance', a creative and investigative method that can pry open radical insights about technology and war, now and into the future. 'Imaginational metaveillance' is a form of veillance that does not require digital or cyber EMS-enabled connectivity. It provides an opportunity to disconnect, to observe one's thoughts and to 'see' liminal connections and relationships that techno-myopia may have obscured. 'Imaginational metaveillance' is a method of observation that can lead to further visualisations, stories, and speculations.
The Impact
Kathryn regularly participates in Australian and international academic and industry conferences with presentations focused on the intersection of art, technology, war, and the military. Her visualisations of the normally invisible pry open important insights that have contributed to topics such as visualising future war, aspects of remote warfare, ethics and autonomous systems, drone operations and imagery, techno-landscapes, AI and art, and creative practice as research. Additionally, Kathryn has been invited as an interviewee on several podcasts to discuss her creative practice-lead research, methodologies, and informed speculations.  She has chapters in two forthcoming edited books that investigate drone technology, drone 'vision' and the aesthetics of drone warfare. 
Kathyrn's last solo exhibition Occupied Landscapes: Evidence of Drones (2019) visualised techno-colonisation from cosmic perspectives. In 2021, she was invited to exhibit with two other artists (both serving officers) at the inaugural Arts@ADC exhibition, Australian Defence College, Canberra. During Covid lockdowns, in 2020 Kathryn was one of eight artists in The World of Drone Art, an online exhibition curated by Dr. Beryl Pong for the Being Human Festival, UK. Kathryn was the only Australian artist included with internationally recognised artists or groups. Her next solo show is her PhD examination exhibition.