As a student of the humanities and social sciences you are uniquely placed to work on solving the complex issues of the future
During your degree you learn to see the world in shades of grey and realise that one person's reality isn't the same as another's. Your strengths include:
Connecting with ideas and colleagues across disciplines to solve complex problems
Leading with empathy and agility
Critically assessing problems to identify solutions
Rationally evaluating evidence from the past and present to inform pathways for the future
Connecting with communities to discover culturally nuanced solutions to wicked problems
Before you graduate it's important you use your strenghts in work situations or scenarios to help prepare you for the workforce. Apply your strengths and prepare for your career through work integrated learning (WIL). During WIL you will see how your theoretical knowledge can inform practice in the workplace.  
HASS has multiple opportunities for you to participate in WIL; explore the tabs below to learn more. 
Industry placements
Industry placements are short or long term experiences in a work environment supervised by an industry professional. In industry placements you have direct interaction with colleagues and clients, and responsibility for tasks related to the service provision of the host organisation. During industry placements you may conduct work across various locations in the host organisation or the community!
Lots of industry placements happen in level 2 and 3 courses. So if you want an industry placement, make sure you use the Program Planner to identify the prerequisites you need early!
Check out COMU3801: Communications Internship an exciting example of the type of industry placement you can complete during your HASS studies.
---
Industry projects
Industry projects are overseen by your lecturers together with an industry partner to produce an industry-appropriate solution.  Projects can be conducted on-campus or at a:
workplace site;  
research facility or institute; or
combination of these locations.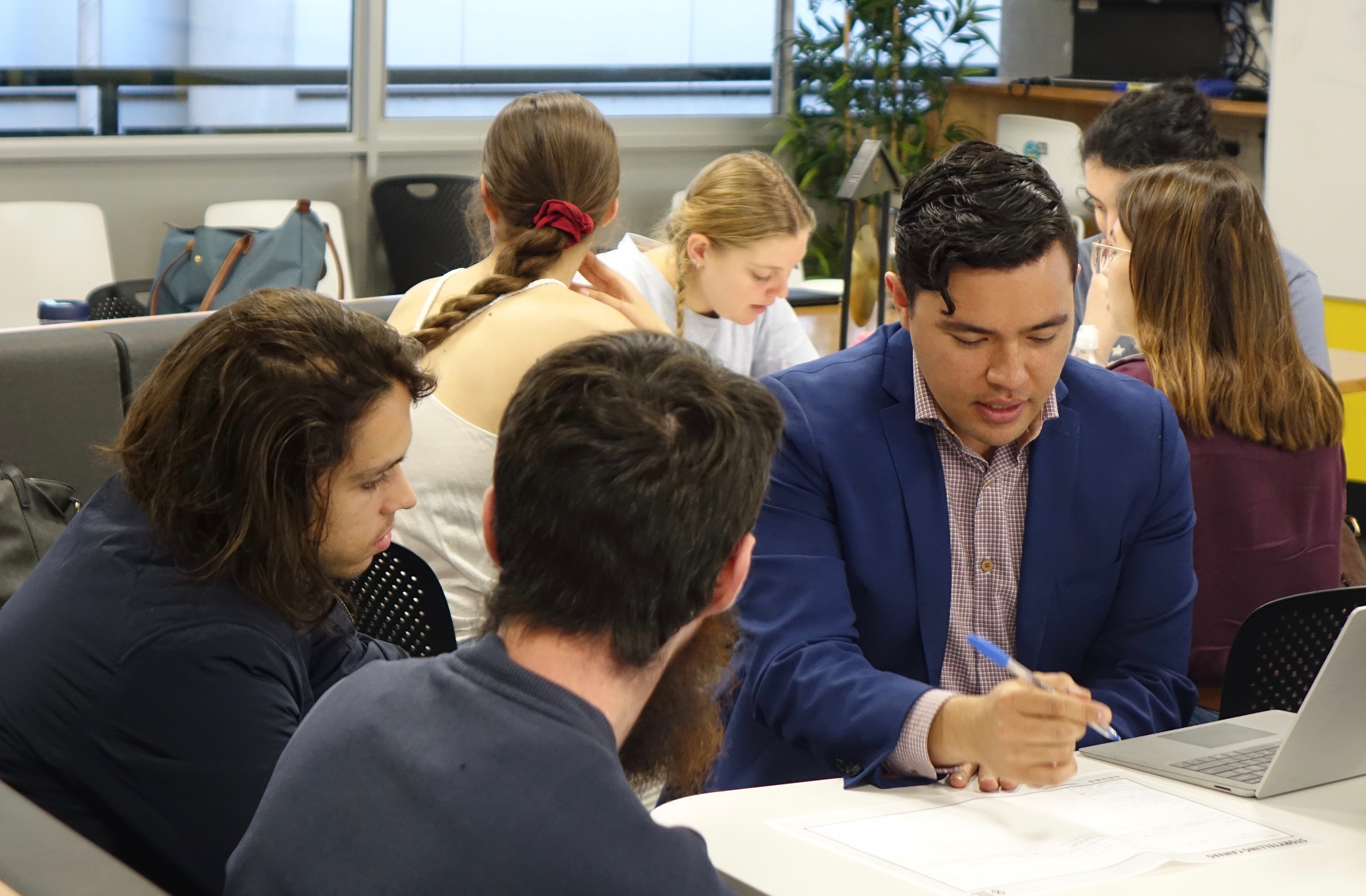 ---
Field Experience
Field experience are activities supervised by a subject matter expert or industry professional. You will observe how theory can be used to inform practice through experiences such as: 
worksite visits;
study tours; 
fieldwork; or 
work shaddowing. 
Field experience is different to industry placements because you won't be responsible for the service provision of the host organisation.
Check out HUMN2500: Collaborations - Relating and Working Together one of the ways you can get field experience through your studies.
---
Work Simulations
Work simulations are activities designed to simulate a work environment. You often use equipment and practices that are standard in the industry. Examples include: 
authoring newspaper columns, government reports, or legal briefings; 
creating museum exhibits; 
structured role playing scenarios; 
radio and TV studio productions; or 
rehearsing for, and giving a performance.
Work simulations are usually conducted in specialised teaching facilities on-campus rather than at workplace.
Check out ARCS2003 - Forensics: The Archaeology of Death & Crime Scenes one of the many courses that include work simulation.
Click on your program or major to see the available WIL courses
If you're having trouble finding a WIL course that's right for you, make sure you check out PHSS2000: Practical Employability Experience. PHSS2000 is a flexible HASS Faculty course that assists you to gain credit for any domestic, virtual or international work-related experience that suits you and your goals.
Bachelor of Advanced Humanities (Honours)
Bachelor of Arts (click on a major)

Ancient History
Ancient History/History
Anthropology
Archaeology
Chinese Translation and Interpreting
Criminology
English as an International Language
French Advanced
German
History
Indonesian
Japanese Advanced
Legal Education Studies
Music
Music Psychology (minor)
Philosophy
Popular Music and Technology
Psychology
Russian
Sociology
Studies in Religion

Bachelor of Criminology and Criminal Justice (Honours) 
Bachelor of Music (Honours)
Bachelor of Social Science
UQ WIL definition and policy
At UQ work integrated learning (WIL) is defined as "learning experiences that explicitly integrate theory with practice within a purposefully designed curriculum to foreground employability. WIL must be either assessable by UQ (for credit) or otherwise a requirement of an academic course or program."
If you want to learn more about WIL at UQ, please refer to the UQ WIL and Work Experience Policy.  
What do WIL and a mirror have in common? 
You can use your WIL experience to populate your resume, but before you do make sure you've reflected on the capabilities you developed throughout the process. Did you improve your communication skills through drafting a mock ministerial briefing? Did you use your critical thinking skills to pitch a solution to an industry client? I don't know; but you will, once you've reflected on your experience.  
Financial Assistance
Funding exists at UQ to help you take part in WIL experiences, check out this link to learn more. If you are travelling to or from a rural or remote area of Australia to complete your WIL experience, you may be eligible for funding throught the Australian Collaborative Education Network. Follow this link for more informaiton. 
Please note that you are not guaranteed to receive funding, so please do not count on it when you are forming your budget.
WIL Work Health and Safety
Before your first day, it is important that you know and understand your role and responsibilities as well as UQ's insurance and Occupational Health and Safety. 
The difference between WIL and work experience
At UQ work experience is defined as "an arrangement undertaken by a student under which an organisation will provide experience to the student as part of the student's education, but not as a mandatory or assessable part of a student's course or program." Work Experience is regulated under the Education (Work Experience) Act 1996 (Qld) and is subject to specific restrictions and conditions. UQ expects that work-based learning opportunities will provide greater educational benefit for the student than operational benefit for the Host Organisation. UQ should authorise work experience arrangements in advance.
For more information, please refer to the UQ WIL and Work Experience Policy.  
Know your rights
To be covered by UQ insurance (usually only in cases of unpaid work experience) you will need to complete this form and have it signed by an Authorised Person (usually your Head of School).  Both you and the Authorised Person then keep a copy.  If you choose to complete work experience, make sure you are aware of what you can, and cannot, be asked to do. Before starting any work exprience check out the relevant link below: