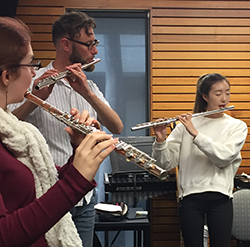 Triple Grammy award-winner and University of Queensland alumnus Tim Munro is set to perform with local artists in an 'immersive' concert at the Judith Wright Centre of Contemporary Arts on Saturday.
Described as a synaesthetic experience where sound is heard, felt and seen, the Saturation concert is the latest offering from Argo, the creative brainchild of UQ music graduate Connor D'Netto.
The concert will also feature pianist and UQ staff member Dr Liam Viney, an original composition from UQ graduate and one of Argo's founding members Mr Ben Heim, and set design by Mr D'Netto.
Mr Munro is in Brisbane for two weeks as Scholar in Residence at UQ's School of Music, funded by the Paula and Tony Kinnane Trust.
"I'm having a ball working with the students who are open and engaged," he said.
"I hope I am provoking them to think differently about how they communicate with audiences.
"And Argo confront similar questions, creating shows that jump the walls between genres, between audiences and performers.
"I can't wait to be a part of Saturday's performance."
Saturation follows on from Argo's successful 2016 concerts at St John's Cathedral and the Springhill Reservoir.
Mr D'Netto said Saturation would be a night of powerful performances and music, all wrapped into a completely engulfing experience.
"The program has something for everyone, seamlessly traversing the worlds of contemporary classical music through to propulsive electronics beats," he said.
"There will be Australian premieres of John Luther Adams' The Light Within and Tristan Perich's A/B/C/D, plus Philip Glass's Music in Similar Motion."
Argo is supported by Creative Sparks, a joint initiative of Brisbane City Council and the Queensland Government through Arts Queensland.
Mr Munro will present the inaugural Paula and Tony Kinnane lecture on Friday 26 May and perform as part of the Vice-Chancellor's Concert Series at QPAC on Sunday 28 May.
Details for all events and tickets can be found here.
Media: Connor D'Netto, argosound@gmail.com, 0423 877 790; Tim Munro, timcmunro@gmail.com, 0434 043 893.