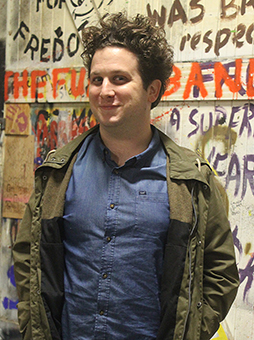 Growing up, writer, director and producer Daniel Evans attended many shows at The University of Queensland's Geoffrey Rush Drama Studio. Now he is preparing for his own opening night at the venue as director of UQ Drama's Attempts on her Life by Martin Crimp.
During the course of his career, Daniel has won the Queensland Premier's Drama Award for his play Oedipus Doesn't Live Here Anymore, and has worked around Australia in both theatre and television, but he admits to feeling the pressure of working in the Geoffrey Rush.
"The venue has such an incredible history of drama," Daniel said.
 "I think I have seen around 80% of the shows performed there and this is my first time working in the space.
"So I said ok let's set it up completely differently and we are performing on the floor in the round – the first time the space has been set up in this way."
Daniel is working with drama students on their semester 1 production and together they have been grappling with the challenges of Martin Crimp's Attempts on her Life, which is made up of 17 seemingly disconnected scenes.
"It is one of those plays every director wants to direct as it is so open to interpretation," he said.
"It's both exciting and daunting as we find the clues within the text."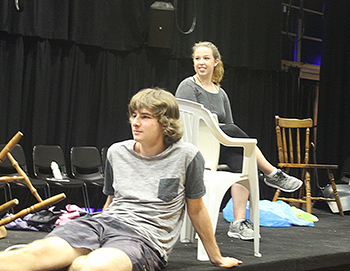 Third year student Christy Wright said she was delighted at the opportunity to work with someone of Daniel's calibre.
"I signed up for the course the day before rehearsals started because I heard it was Daniel directing, I had seen Oedipus Doesn't Live Here Anymore and The Seagull which he did with the Queensland Theatre Company.
"It has been an amazing experience," Christy said.
Second year student Georgia Pontifex agreed the rehearsal experience had been incredible.
"It's not just about the play itself, I have learned so much from the creative process and met so many people," she said.
UQ's Drama convenor Dr Stephen Carleton said working with professional directors was an important part of the program.
"Our production courses give students the opportunity to develop a wide range of marketable skills, in everything from marketing and publicity, event management, and budget coordination to the suite of performance skills they acquire 'on the floor'.
"Working with someone of Dan's calibre and reputation obviously bumps all of that learning up a notch, and provides UQ Drama students with important industry contacts and introductions," Dr Carleton said.
Attempts on her Life runs in the Geoffrey Rush Drama Studio 31 May – 3 June and is suitable for people aged 15 and over.
Reserve tickets by emailing uqdrama@gmail.com and pay in full at the door on the night.