Twenty UQ journalism students, two staff, four days of travel through three different countries, seven days of reporting in Jaipur India, and more than 60 original multimedia stories posted to our website.
Now that's how you learn to be a foreign correspondent.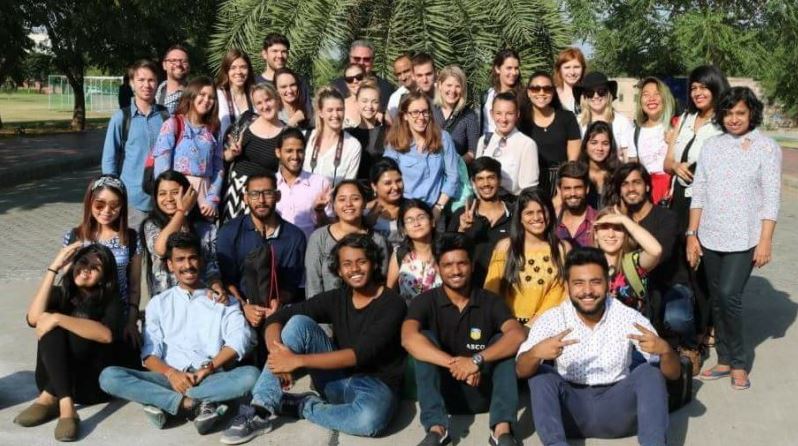 It's certainly not easy, as Nazlee Salami admitted: "It's been a huge learning curve [but] it's a challenge that has made me grow."
Maya Fellows agreed: "It can be extremely tough as a foreign correspondent because you have to adjust to a different culture. It teaches you to persevere and continue to strive for an amazing story!"
All the students taking part in this course are recipients of New Colombo Plan scholarships from the Australian Government's Department of Foreign Affairs and Trade. They are awarded more than $3,000 each, which covers all major costs including airfares, accommodation, some meals and local transport.
UQ has been successful in winning federal funding almost every year since 2012 when the first group of 10 students went to Vietnam for an intensive, immersive and experiential Work Integrated Learning course.
Since then, almost 100 UQ journalism students in the final year of their degrees have been able to cap their studies with real-life international reporting experience.
A large number of alumni from these courses have found work in their chosen field soon after graduation. For example, four out of the 16 students who took part just last semester in the 'UQ in Indonesia' course are already working as casual producers and reporters for the ABC in Queensland.
"The deciding factor is that the students who've taken these overseas courses can do everything – radio, TV, print, multimedia, photojournalism – and they've forged their skills under quite a bit of real world stress," said course coordinator and lecturer in journalism, Bruce Woolley, who travels with the students.
"Employers know these young journalists can hit the ground running if they employ them as cadets or casuals," he added.
While in India, UQ partners with Amity University, which has several campuses around the country.
UQ's 20 students work alongside 20 student 'buddies' from Amity who help with story planning, logistics and translation.
Professor Manish Verma is the Director of the Amity School of Communication in Jaipur.
"From the day I have discussed the brief of this assignment [with Amity students] I have received overwhelming response," he said.
"They are very excited to work with Australian students."
Professor Verma said Amity was keen to be part of this project and to be able to help UQ Journalism students with their assignments.
"I think it is a start of a long term association with UQ and I hope in future we will further strengthen this relationship through various collaborative projects.
"For our students it is an opportunity to work in a diverse group, do collaborative assignments and to get to know Australia through UQ buddies," he said.
The UQ students also find the relationships beneficial as Nazlee Salami explained: "I've learnt so much about culture, communication and technical skills.
"I've also had the most fun with my buddies, getting lost in the colourful and rich culture of India."
Meg Gillespie was equally enthusiastic about the 'buddy system'.
"The opportunity to work with Amity students has been infinitely beneficial – not just for cross cultural communication skills but to learn how journalism is taught and conducted in a foreign country.
"We've developed friendships and connections from across the globe and have put those friendships and skills towards telling the stories of Jaipur," she said.
The 'UQ in Jaipur' experience has also confirmed the future direction many of the students want to take.
"[This course] has made me realise that this is the career path I would like to pursue," said Anny White.
"Working with locals, experiencing a culture from the ground and putting an entire story together on the fly is what I'm really passionate about, and I wouldn't have been able to discover that without this trip."
Professor Verma would like to expand the relationship between UQ and Amity.
"I hope we continue with such exchanges in future," he said,  "and maybe add semester exchange for students in Journalism school wherein we host UQ students in Jaipur and our students can spend a semester in UQ."
Funding is already in place for two courses in 2018: to Indonesia in first semester and India in second semester.
Media: Bruce Woolley b.woolley@uq.edu.au