Language, law and the city of love
University of Queensland student Amy Bergman has been selected as a Laureate of the Embassy of France 'Nicolas Baudin' Travel Program, and will complete an exchange semester at Sciences Po, Paris.
Ms Bergman, a Bachelor of Arts (majoring in French) and Bachelor of Laws student, is one of just eight laureates selected for this first round of grants, and was chosen from more than 120 applicants.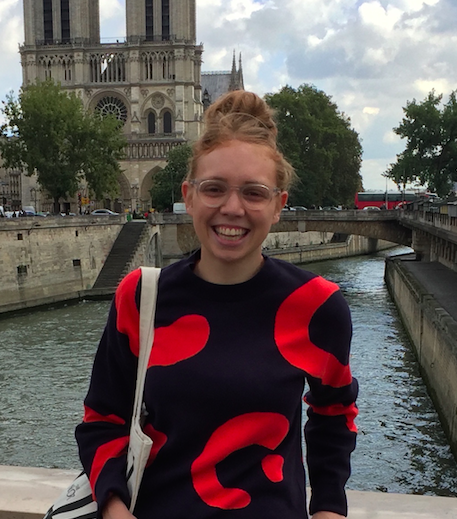 Ms Bergman said the opportunity to fully immerse herself in the language – especially in an academic context – was crucial.
"Those who have ever studied a language will know that textbooks can only teach you so much, and being able to participate in an immersive environment for a full semester is invaluable," she said.
Ms Bergman selected Sciences Po because of its incredible reputation and outstanding list of alumni, including the current French President, Emmanuel Macron, and current Prime Minister, Edouard Philippe.
"I knew that Sciences Po could provide me with the rigorous and unique academic experience I was seeking in order to benefit my French skills as much as a possible, as well as benefit me as a law student through its emphasis on the art of thinking.
Ms Bergman will spend more than five months in France, living in Paris and studying in French full time.
"To be living in a city so brimming with history, to be exploring the streets, the buildings and the cafes that were frequented by some of history's most influential figures is incredibly inspiring," she said.
Ms Bergman said that a second language is invaluable in the workplace, can set you apart from other candidates, and is the perfect companion to studying law.
"A second language works wonders for the way you think and your perspective on the world, making you more culturally aware and able to draw on others' perspectives.
"Diving into the grammar of another language forces you to think about the things you do automatically in English and how our language works, and mastery of the English language is a lawyer's bread and butter."
The Nicolas Baudin Travel Grant is eponymously named after the famous French explorer and botanical voyager who in 1802, at the same time as Matthew Flinders, charted the coast of New Holland (Australia).
Media: Jo Hickman 07 3346 0384 jo.hickman@uq.edu.au