Having been born completely blind, University of Queensland graduand Amanda Acutt has a strong belief in equal opportunity for education, regardless of disability/impairment or socio-economic status.
So much so that her thesis focuses on getting kids back on track to become thriving members of society, despite their background, and explores the core ingredients of successful interventions that encourage school re-engagement.
An avid reader from a young age with a thirst for knowledge and love of learning, it's no surprise that Amanda decided to embark on a PhD journey.
"Completing a PhD is certainly no fool's game, and I had some additional challenges to negotiate along the way," she said. 
Graduating with an arts (criminology)/law degree in 2011 and honours in 2012, Amanda attributes her academic success to the continued advances in technology.
"Screen reading software, using synthetic speech, and electronic braille are the means by which I learn and access information and research materials," she said.
Part of Amanda's challenge was gaining access to the materials that were accessible for her screen reading technology and learning to negotiate to find workarounds.
"I found the library staff and UQ's Alternative Print Service to be extremely helpful and accommodating.
"I'm also fortunate to have had constant support and a never-ending stream of encouragement from my PhD supervisors, and always had the backing of UQ's Institute for Social Science Research," she said.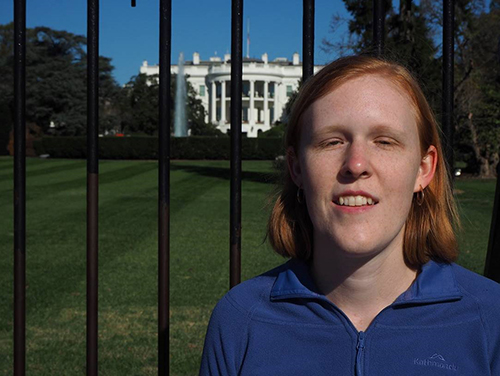 UQ Professor of Criminology Lorraine Mazerolle said Amanda's thesis is very impressive.
"Her deep engagement with the theoretical literature in criminology, focusing on the dialogue of police legitimacy, set up solid foundations for her to produce a piece of original research that truly pushes the boundaries of knowledge," she said.
Amanda believes educational attainment is linked to positive life outcomes and is grateful for her education – particularly for learning braille.
"Being able to actually read, as opposed to just listening to information, has been fundamental to my academic and personal achievements to date.
"I might not have had all these opportunities if I was brought up in a different environment – my parents are teachers themselves so they understand the importance of education."
Completion of her PhD is Amanda's first step in her search for meaningful employment.
She is now embarking upon a quest to kick-start her career in the public sector, particularly in social policy development and research.
Amanda will graduate at tomorrow's ceremony.