Jolly old St Nick has a long history of crossing borders, and not just on Christmas Eve…
Senior Lecturer in Greek History and Language from The University of Queensland Dr Amelia Brown has been working on uncovering the 'real' St Nicholas for the past few years, and shares some snapshots here from the ancient and medieval travels of the Greek Agios Nikolaos ('St Nicholas'), better known as Santa Claus.
She is currently working with UQ alumnus Dr Julian Barr on translating all of St Nicholas' miracles and life story into English for the first time in the Byzantina Australiensia series. These Greek miracles and larger biography of St Nicholas were first written from the 5th century onwards, about a century after he died (of natural causes) as an elderly and much-beloved bishop of the city of Myra on the south coast of what's now Turkey (ancient Lycia, part of the Roman Empire).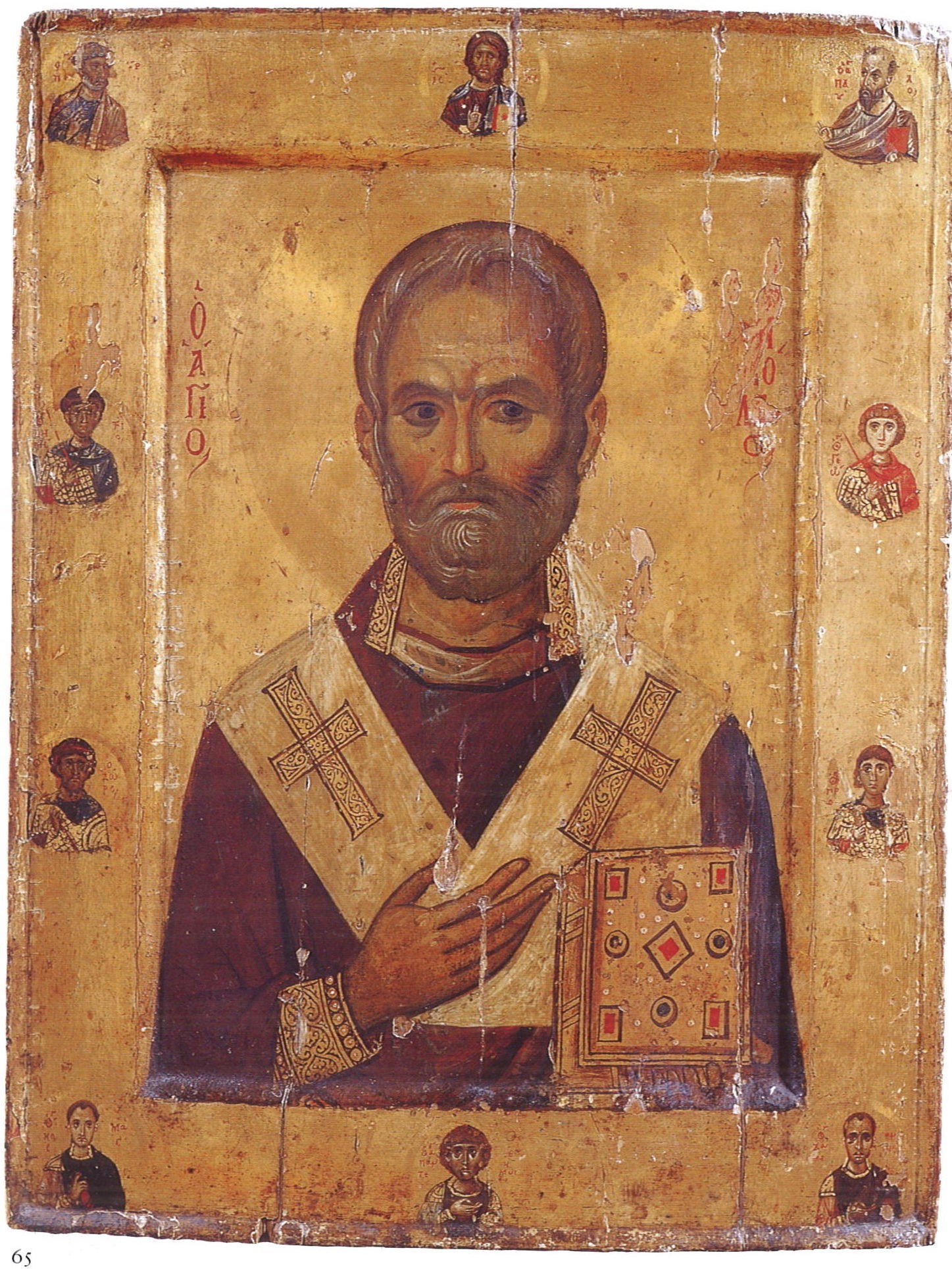 The medieval icon of St Nicholas is very different from the modern image of the Santa Claus we know today – which was developed in the 19th Century.
St Nick has always been associated with charity and gift-giving, well before December 25 and Santa Claus even existed.
"Originally, he was more famous on his feast day of December 6 than on Christmas, or New Year's, or Epiphany, when gifts used to be widely given," Dr Brown said.
"Nikolaos first shouldered his pack about 1700 years ago; an ordinary ancient Greek cleric from the city of Patara who made his way to nearby Myra turning his attention to concerns not too different from a bishop today - building churches, preaching sermons, and caring for the poor and hungry in his congregation. 
"Myra had a busy port then; with merchants, families, students, single women and sailors who remembered his generosity and charity fondly, spreading the word around the Mediterranean, and eventually across the oceans - that's how the legend of Santa Claus was born," she said.
Sailors, merchants and fishermen took him across the Black Sea, where he became the patron saint of Ukraine and then Russia.
Italian sailors, monks and bishops took him into Western Europe, where he became a patron of students, bankers and thieves.
And eventually he became jolly old St Nick, generous at Christmas time to the young, the young at heart, and the needy.
By the sixth century he was remembered as 'holy' ((h)agios in Greek, English 'saint') Nikolaos, and an annual festival commemorating his death from old age circa 360 was held on December 6 around the Roman Empire.

His miracles of charity, especially the liberation of slaves, and his help for young women and sailors in distress then started to appear in the visual arts far beyond Myra.
Dr Brown said the first surviving images of 'Santa Claus' reveal the divergence of so many different travellers who took his miraculous tales so far afield.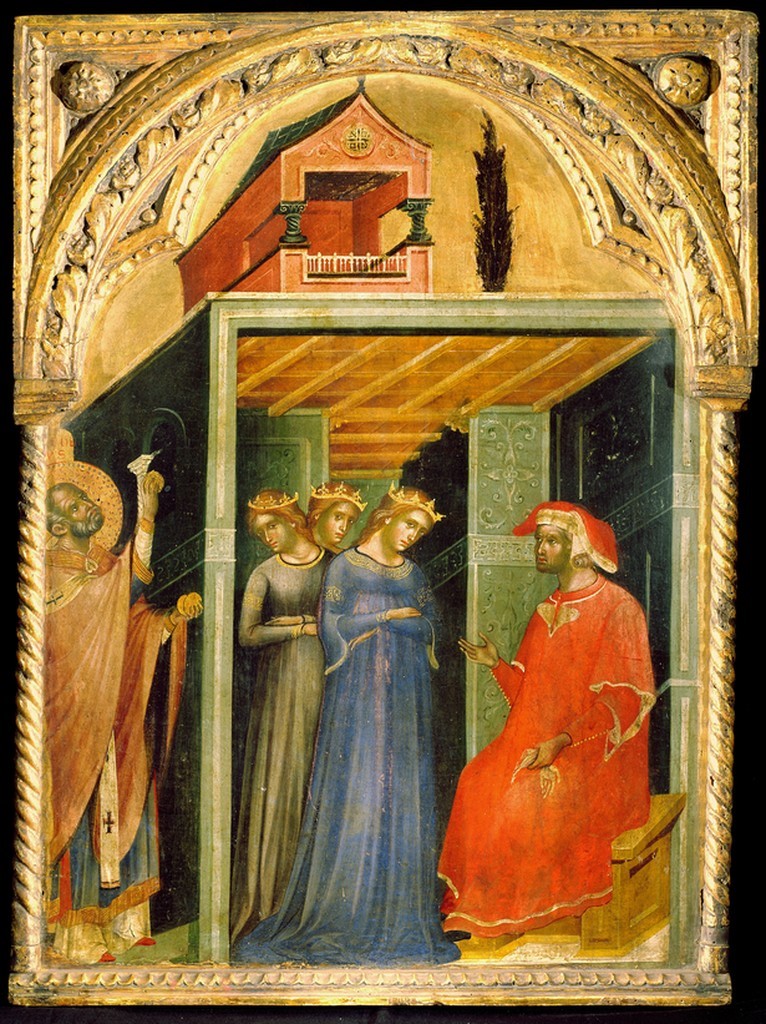 "Icons collected at St Catherine's Monastery on Mt Sinai in Egypt in the Middle Ages show a white-bearded Eastern bishop who wears a black and white omophorion (bishop's stole) and holds a bible (pictured above) - it was painted circa 1000, and is still at St Catherine's Monastery of Mt Sinai."
"Italian renaissance painters, like Paolo Veneziano, first put him in red, and Western bishop's garb. They preferred to paint scenes of his miracles, like his charity for the three young women who could not afford dowries (pictured left)."
Dr Brown has just published an article on this interchange between Western and Eastern imagery and Christianity in the medieval Mediterranean, focusing on the Hospitaller Knights of St John, who lived on Rhodes near Lycia and took over Myra in the later Middle Ages.
"They are now better known as the Knights of Malta, since they moved there in the 16th century," she said.
"At Rhodes, Kos, Bodrum, Myra and then Malta they worked in the tradition of St Nicholas and the hospice of St John in Jerusalem to bridge Western and Eastern traditions of Christian hospitality, charity and the reception of Roman imperial Christian and pre-Christian traditions."
You can read more about this research here.
---
Fun Facts about St Nick:
His first written miracle claimed he saved three generals from being executed by the emperor Constantine by appearing to him in a dream (since he probably never went to Constantinople).
 
His first hymn, by Joseph the Hymnographer, was written to thank St Nick for freeing Joseph from jail in Crete circa 820. He was in jail for making and venerating icons of St Nick.
 
His skeleton was stolen from his tomb in Myra in 1087, and taken by merchant sailors to Bari in southern Italy, where it is still venerated today at the feast of his translation, May 9, in a church built by the Norman adventurer Robert Guiscard. Nikolaos's bones were examined recently; he was short and had a broken nose.
 
Many Christians give gifts, or used to do so, on St Nicholas' day (December 6), New Year's Eve or Epiphany (January 6), when the Magi arrived in Bethlehem, instead of on Christmas.
 
St Nick is the patron saint of Amsterdam, and hence also the Dutch city of New Amsterdam, better known today as New York. The English 'Santa Claus' is derived from the Dutch pronunciation of 'St Nicholas'.
 
St Nick's first surviving depiction in the visual arts comes from the 8th-century frescoes of the church of Santa Maria Antiqua in the Forum of Rome, and showed him secretly giving gold coins as dowries to three needy girls of Myra to keep them from becoming prostitutes.
 
Some medieval paintings of the miracle of the needy girls show them hanging up their stockings to dry, and the coins falling into them; this may be the origin of modern stocking-hanging for Santa Claus. 
 
Other paintings substitute three boys' heads for the three bags of coins, and a related (later) miracle says St Nick brought three students back to life whose bodies had been made into pies.
 
The miracle of the needy girls came to be called 'The Charity of St Nicholas', and was a favourite scene for Renaissance painters. Pictured is Paolo Veneziano's version, from 1340-1345, now in the Uffizi Gallery Florence (courtesy of ARTStor). St Nick is wearing red on the left and putting the coins in at the window.