UQ's Anthropology Museum has recently marked two significant milestones in its mission toward preserving cultural heritage through collaborative exhibitions and public programming.
The Museum continues to celebrate First Nations histories and cultures on a national level, generating spaces for reflection and dialogue between knowledges old and new.  
Honouring Marshall Bell: NGAYI-LI DHIIYAAN NGAMILMA-LI (Ongoing Teaching for Family) 
In a heartfelt tribute to Gamilaroi/Jiman artist and community advocate Marshall Bell, the Museum welcomed over 160 guests for a special event in August titled NGAYI-LI DHIIYAAN NGAMILMA-LI (ongoing teaching for family). 
Marshall's work was characterised by its vibrancy and scale, and most importantly the attention to detail in reimagining cultural motifs and deeply spiritual and personal stories into artworks. 
The panel discussion and community gathering took place in conjunction with the museum's current exhibition, "Anthropocene: Linking Past and Present to Shape a Better Future," which features three artworks created by Marshall in 2012. 
The three works East Coast 1, East Coast 2 and Warraba represent extensive research on Gamilaroi carved tree art in an exploration and continuation of cultural practice.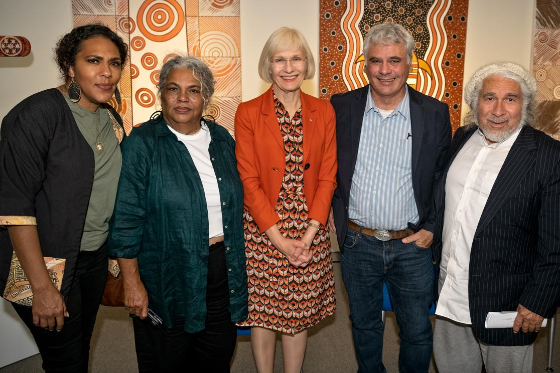 Marshall's partner Rosemary Bell, cultural producer Paul Spearim, respected curator Djon Mundine, the Museum's Director Michael Aird  and others shared significant stories, reflecting on the legacy of Marshall's work as an artist, advocate, and community leader. 
Their reflections painted a vivid picture of Marshall's valuable contributions to the visual arts community of Brisbane, alongside his mentorship and knowledge sharing with artists and cultural producers from throughout the region. 
The panel discussion was recorded and will be available to view below in mid-October.  
A special performance rounded out the evening with Gamilaraay dancers traveling from southern Queensland and northern New South Wales to St Lucia for the event, sharing songs, stories, and dance in honour of Marshall.  
The exhibition featuring Marshall's work runs until Friday 15 December at the UQ Anthropology Museum. 
"Kirrenderri: Heart of the Channel Country" tours Central Queensland 
After initially launching at UQ in March 2022, the touring exhibition 'Kirrenderri, Heart of the Channel Country' has toured three venues across Australia. 
The timely exhibition illustrates the cultural and aesthetic riches of the Mithaka region of Channel Country which underscores historic milestones and the resilience of relationships forged on Channel Country from the late 1890s to the present between Aboriginal and pastoral families. 
The exhibition has already travelled 4,500 km's to reach remote and rural communities throughout Central and Outback Queensland.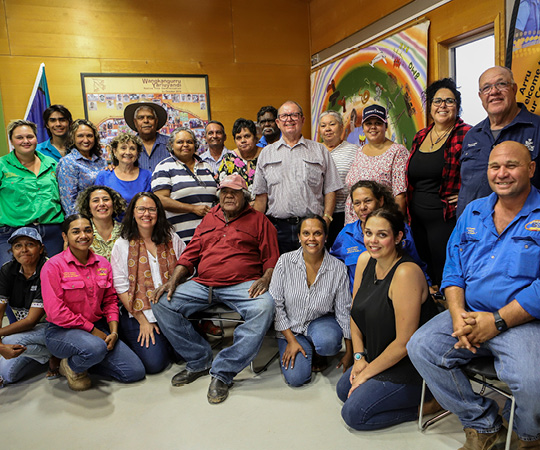 Along the way, it has welcomed over 21,500 visitors at the Waltzing Maltilda Centre in Winton, the Banana Shire Regional Art Gallery in Biloela,  , and most recently at Birdsville, where it captivated audiences at the Wirrarri Information Centre during the peak tourist season. The visually striking and narrative rich exhibition chronicles extraordinary stories from one of the most remote locations at the very heart of Australia and visitors to Birdsville have welcomed the high calibre exhibition and its stories from neighbouring townships that tell familiar and complex intergenerational connections. 
The exhibition is now gearing up for its next destination, the Qantas Founders Museum, with a launch scheduled for late October. With its sights set on Cairns Museum and Yarrila Place, Coffs Harbour in 2024. 
Follow the UQ Anthropology Museum's Facebook and Instagram to follow the exhibition's journey.