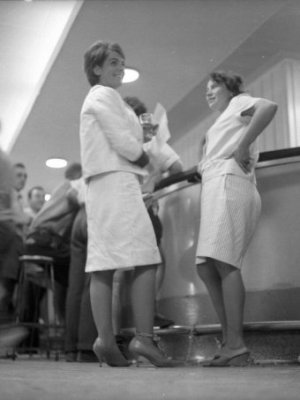 A young University of Queensland postgraduate student catapulted herself to fame half a century ago – by asking for a beer at the nearby Regatta Hotel.
That woman, Merle Thornton, and her friend Rosalie Bognor made headlines because they chained themselves to the pub's bar rail after being refused service.
The hotel bar was legally designated as "men only", so police were called, and The Courier-Mail's famous photo of the two women in ankle chains (right) has become an archetype of the era.
The protest is now regarded as pivotal in the Australian women's liberation movement and in prompting a change in Queensland hotel laws.
Ms Thornton was teaching philosophy at UQ at the time, and a month after the Regatta protest she founded the organisation Equal Opportunities for Women.
Now, 51 years later, Ms Thornton AO will be a special guest at World Philosophy Day at UQ on Thursday 17 November, an annual event hosted by the School of Historical and Philosophical Inquiry.
Events will run from noon to 8pm and feature Ms Thornton giving a public lecture on Sex, Feminism and Philosophy of Life.
Ms Thornton also will join Mary Graham (Associate Adjunct Professor in UQ's School of Political Science and International Studies) for a panel discussion launched by Freya Mathews (Adjunct Professor of Environmental Philosophy at Latrobe University), via a specially prepared video filmed at her private biodiversity reserve in northern Victoria.
Ms Graham is a Kombu-merri woman who has served on the boards and committees of many Aboriginal organisations, worked in Native Title negotiation, and lectured on Aboriginal history, politics, and comparative philosophy at UQ and other Australian educational institutions.
Professor Mathews is a fellow of the Australian Academy of the Humanities and a prominent environmental philosopher and author.
A range of events and activities will be held at UQ on the day, in conjunction with the Queensland Philosophy Education Network and postgraduate philosophy students.
Senior Lecturer Dr Gilbert Burgh said World Philosophy Day aimed to highlight the enduring value of philosophy for the development of human thought, for each culture and individual.
"Our School has been active in promoting philosophy as a way of life through teaching, research and community engagement, which is reflected in this year's choice of speakers," Dr Burgh said.
"Our special guests are recognised as having made significant contributions to academic life and the wider community.
"They will represent a range of different ways that philosophy has affected their personal lives and how they engage with the world."
More event information is on the website and Facebook.

Media: Dr Gilbert Burgh, g.burgh@uq.edu.au+61 7 3365 6348, 0400 354 143.