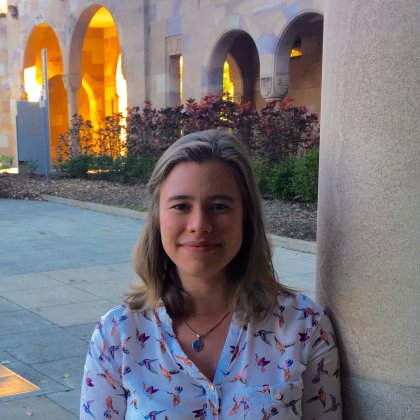 Trading in the flying trapeze for the lecture theatre has paid off for this Brisbane former circus performer.
Nile de Jonge will graduate with First Class Honours in Classical Languages on Monday, one of more than 8800 students graduating from The University of Queensland this December.
Nile started classes at Flipside Circus when she was 14 and three years later was invited to join the performance troupe where she specialised in lyra (suspended steel hoop) and juggling.
For the next two years Nile performed in over 100 shows throughout Queensland, appearing on Toasted TV and Totally Wild.
She became a circus trainer at 18 and was offered a place at UQ, but she decided to stay on with Flipside and defer her studies until 2009.
"I was performing at the Brisbane Festival every night for two weeks, while still training and teaching during the day as well as working part time, and it was starting to take its toll," she said.
"After the festival was over, I finished off semester but decided to defer my studies again, left Flipside, and travelled around Europe for six months.
"When I returned in 2011, I made the decision not to pursue a career in circus and returned to UQ at the beginning of 2012 to continue my degree," she said.
Since then there has been no stopping Nile. She served as a Vice-President of the Classics and Ancient History Society and was heavily involved in their language mentoring scheme –providing one-on-one tutoring to students needing extra assistance with grammar or translation.
She has received two Dean's Commendations for Academic Excellence, one for high achievement, and she is valedictorian at her graduation ceremony this year.
Although she traded her lycra costume for a graduation gown, Nile believes her time at Flipside shaped her identity today.
"Performing circus taught me so much about life in general – giving me confidence, as well as teaching me about responsibility, respect, and discipline," she said.
"My circus training definitely assisted me in my university studies – you need to train hard no matter what, while continuously improving your skills.
"The only difference now is instead of improving my juggling skills, it's about improving my skills in ancient Greek," she said.
Next year Nile will start a Master of Philosphy, studying Greek historian Herodotus and his thoughts on maritime religion, and one day hopes to get a job in research or language translation.
Media: Kristen Johnston, Faculty of Humanities and Social Sciences, k.johnston@uq.edu.au,  07 3346 1633.