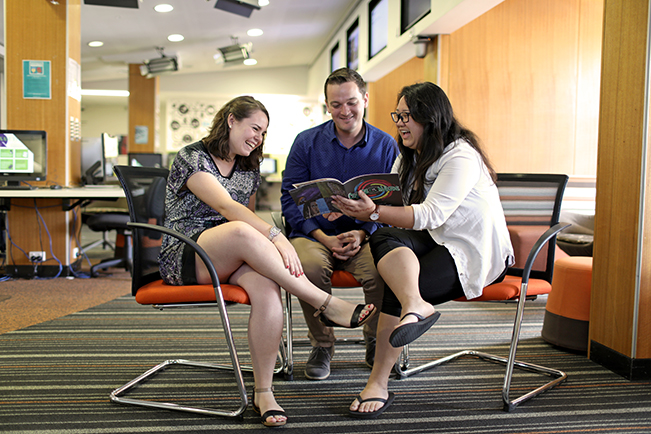 The University of Queensland has welcomed a fresh intake of Journalism students into its revamped Bachelor of Journalism program.
The Journalism program convenor, Dr Daniel Angus said the new program was in response  to the challenges facing Journalism in the 21st century.
"The program takes the best of traditional journalism practice and blends it with new methods of data and design thinking, and creative storytelling practice," Dr Angus said.
The program retains a focus on international journalism, conducting two courses overseas every year funded by the federal government's New Colombo Plan.
The courses are designed to teach journalism students how to develop their skills as international reporters and potentially as future foreign correspondents.
UQ's journalism program has also pioneered a cutting edge hyperlocal journalism project - Change Makers - in partnership with Woodridge State High School.
Change Makers has broken new ground in multicultural reporting in Australia, winning the Australian student publication of the year in 2014 and the Queensland Multicultural Award for journalism and communication in 2015, against The Courier-Mail and SBS.
Now in its fourth year, Change Makers will release a documentary this year, the first of its kind shot in a Queensland public school.
The project is also the subject of new book to be published by Routledge 'Disruption' series aimed at exploring change and innovation in journalism.
New elements of the Bachelor of Journalism include subjects on emerging practice such as data journalism and interaction design.
In the third-year Journalism Design course students will study design methods as a way of imagining how journalism might be practiced in the future.
Course coordinator Skye Doherty, said students would learn to design, prototype, evaluate and reflect on their ideas.
"Our students are encouraged to think about how mixed reality, algorithms and physical computing might change the way news is crafted and delivered," Skye said.
The Bachelor of Journalism is complimented by a suite of minor subjects including  politics, economics, sport, music, film and television, public relations, interaction design, and writing.
"It is the minors that allow students to gain important skills and foundations in key areas of public interest," Dr Angus said.
 "While the industry is tackling some large structural challenges, the importance of Journalism has never been greater.
"We are committed to the public's right to know, and see the new program as a way to help ensure that the news organisations of today can access the talent they need to take them into the future."
Media: Dr Daniel Angus – d.angus@uq.edu.au (0404262236)
Image caption: Members of the 2017 Change Makers' team prepare for the launch of the new Change Makers' documentary, later this year.