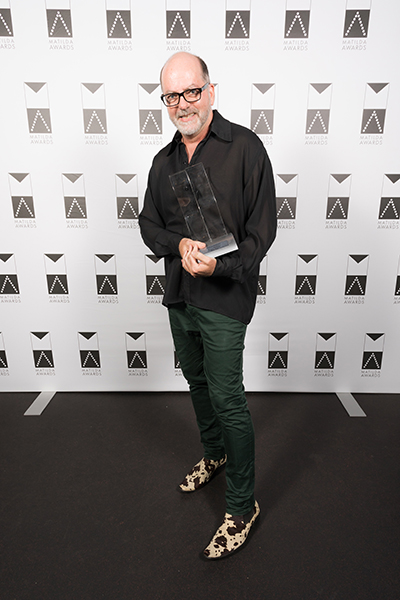 Playwright and University of Queensland drama lecturer Dr Stephen Carleton has received the prize for Best New Australian Work at the 2017 Matilda Awards.
Dr Carleton's play Bastard Territory was part of Queensland Theatre Company's 2016 season after premiering in Cairns and Darwin in 2014.
The Matildas, which celebrate Queensland's theatre industry, were announced this week.
Dr Carleton said the award was a great endorsement for a play that was built by smaller theatre companies – Browns Mart and Knock-em-Down theatre companies in Darwin and JUTE Theatre in Cairns. 
"It felt like testament to a lot of hard work and commitment from those companies, and we were all thrilled to have the play acknowledged in this way," Dr Carleton said.
"It is so rare for regionally generated work to make the crossover to a mainstage capital city company. All off us were glad to see it land in Brisbane.
"I was delighted with the win, and taken by surprise on the night. It was that classic thing of deciding that the winner would be so-and-so, and not preparing a speech."
Bastard Territory follows the character of Papua New Guinea-born Russell, who moves to the Northern Territory with his adoptive white parents. After his mother abandons the family, Russell tries to find the truth of his parentage.
Dr Carleton said the QTC production gave a chance to hone aspects of the play that had been "a bit ragged" the first time round.
"We reworked the play's ending altogether because it hadn't quite resonated properly with its Darwin and Cairns audiences," he said.
"In an ideal world, this is what would happen with all work you create in the theatre: you trial it, hone it, reconsider it, polish it, with each outing that it has."
Dr Carleton has had a long relationship with QTC, which produced his breakthrough play 10 years ago.
"I did my Master's degree and PhD at UQ and wrote Constance Drinkwater and the Final Days of Somerset as part of my PhD research," he said.
"The play won the Patrick White Playwrights' Award in 2005 and was subsequently produced by QTC."
There are no plans for another Bastard Territory production just yet, but Dr Carleton said he would like to see it performed elsewhere in Australia.
"We'd love it if it were to be picked up somehow for a southern audience and I've always thought the play would resonate well in Perth because of Western Australia's cultural relationship with its own 'Top End'," he said.
Dr Carleton won the 2015 Griffin Award for his play Turquoise Elephant, which had its world premiere in Sydney in 2016.
Media: Stephen Carleton, s.carleton@uq.edu.au, 07 33468739; Gillian Ievers, g.ievers@uq.edu.au, 07 33461634 / 0439 187349