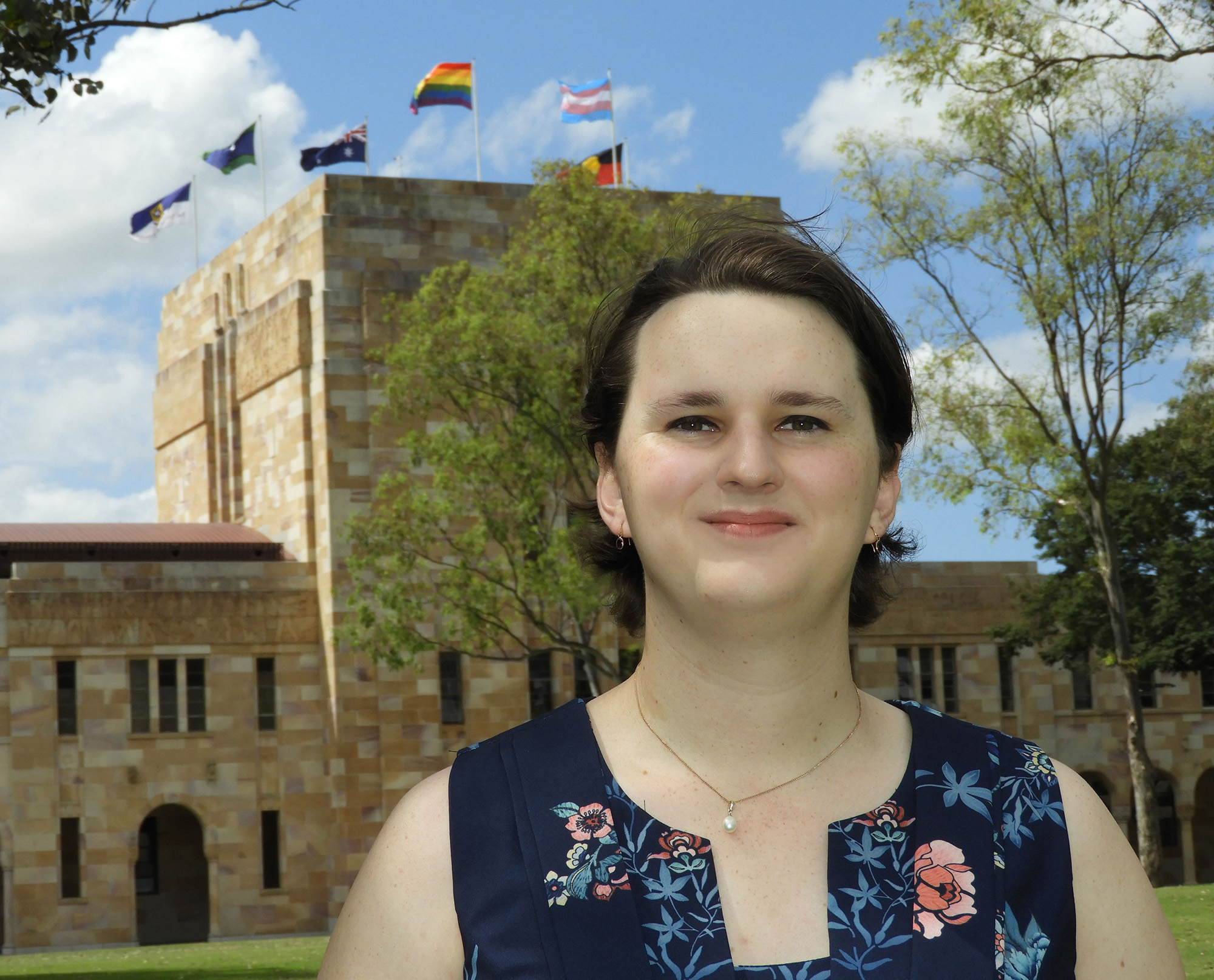 Making the classroom a safe and accepting place is the goal for transgender University of Queensland teaching graduate, Genevieve James.
The School of Education valedictorian began her gender transition in her final year at UQ, only presenting as her true self in her final teaching placement.
"I feel like I am at the vanguard of something important," Miss James said.
"Whilst other members of the LGBTQ+ community assuredly have and will continue to compose the education landscape, there is a whole different level of visibility with being a trans teacher."
"There is a wonderful saying one of my LBGTQ+ teaching friends told me, 'You can't be what you can't see'.
"For this reason it is so important that I am honest and open about who I am, so that students who might be questioning their own gender might feel understood and valid."
The importance of transition was crystalised by an earlier school placement, where she opted to present as male after considering her options at that early stage during her transition.
"The school was lovely, the teachers were lovely, and my supervising teacher was an absolute rock star, but every day I would come home and maybe shave my legs, or shave my arms, or do anything that would make me feel like me, that would make me feel like Gen," she said.
Being a teacher was a lifelong dream for the English and Drama graduate which was confirmed in secondary school when a few friends struggled with their studies.
"I just noticed the impact that I was able to have with a few of my friends who needed to do maths to continue their careers," Miss James said.
"I was pretty good at maths and I gave them some tutoring to the point where they said I was the person who got them into engineering, and it just felt rewarding to have an impact like that.
"I've always had a passion for drama and literature, so the idea of fostering that passion in young people as a career just seemed like a dream come true for me."
She said being selected valedictorian was an unexpected honour.
"I've never been an ambitious person, so I didn't have the drive to become top of the class, but to be recognised by my teachers, the school of Education, and my cohort feels pretty incredible and humbling," Miss James said.
"For my speech, I'll likely discuss how for gender diverse students and, in fact, students of all stripes, school can be an important place of safety and belonging for them.
"Therefore, as teachers we have a responsibility to strive to make our classrooms accepting, welcoming, and comfortable so that all students that we teach have a place that they can feel is their own and where they can be themselves."
And while Miss James doesn't doubt there might be challenging times ahead, she is determined – with the firm backing of her family, partner and friends – to advocate for herself and be the change.
"I hope that I can prove to be a good teacher and advocate for gender- diverse students and staff in the education sector.
"Whilst I am not solely my gender identity, I believe being gender diverse brings something important and unique to whichever school I am lucky enough to become a part of."