The University of Queensland has officially welcomed its latest cohort of high-achieving student leaders who have been named as UQ Ramsay Scholarship recipients for 2022.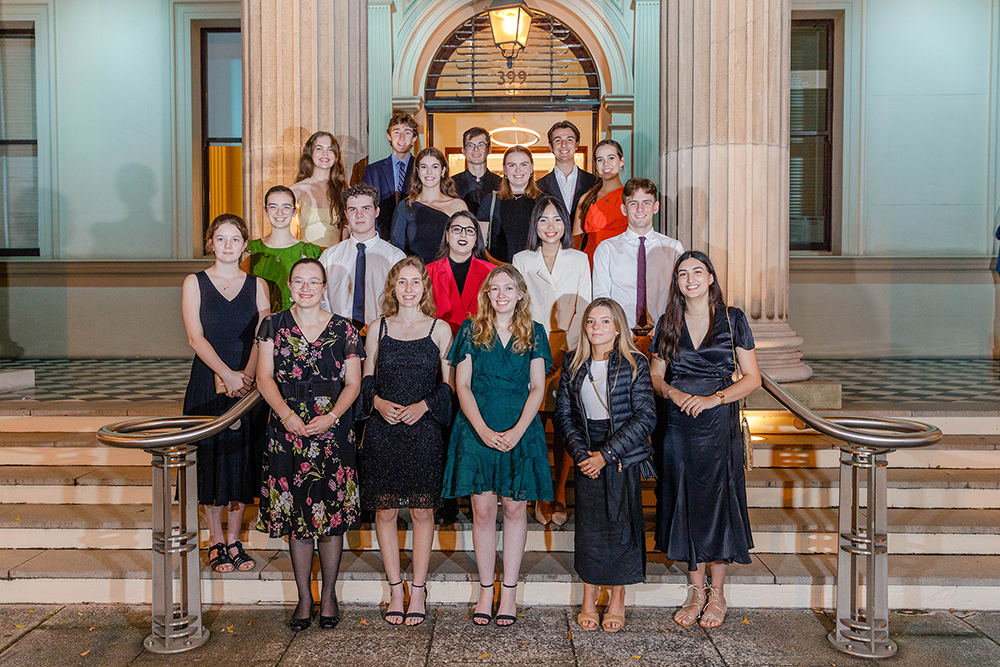 The students will study UQ's extended major in Western Civilisation, which in only its third year is the single most competitive humanities course for entry in Australia.
The 23 newly announced Ramsay Scholars join another 16 students who have elected to study the Western Civilisation major in 2022 without a scholarship, reflecting the course's growing popularity.
The 2022 Scholars were welcomed at a reception in Brisbane attended by Vice-Chancellor and President, Professor Deborah Terry AO, Executive Dean of the Faculty of Humanities and Social Sciences, Professor Heather Zwicker, UQ Centre for Western Civilisation Director, Professor Alastair Blanshard, and UQ Ramsay Scholars who commenced in 2020 and 2021.
The event was also attended by Ramsay Centre CEO Professor Simon Haines, Chairman the Hon. John Howard OM AC, Academic Director Professor Diana Glenn, and several members of the Ramsay Centre Board.
Thanks to a partnership agreement between the Ramsay Centre and UQ, the scholars are supported to study Western Civilisation in either UQ's Bachelor of Advanced Humanities (Honours) degree, or in its Bachelor of Humanities/Bachelor of Laws (Honours) dual degree, through scholarships worth up to $30,000 p.a. for up to five years. The scholars are taught in small class groups and receive academic mentoring.
Scholarships are awarded to academic high achievers who desire to make a difference. The study program is led by internationally-acclaimed classicist Professor Alastair Blanshard and promises to immerse students in "…a creative and diverse curriculum with a strong focus on key intellectual works – artistic, musical, literary – that have shaped western civilisation from antiquity to the current day."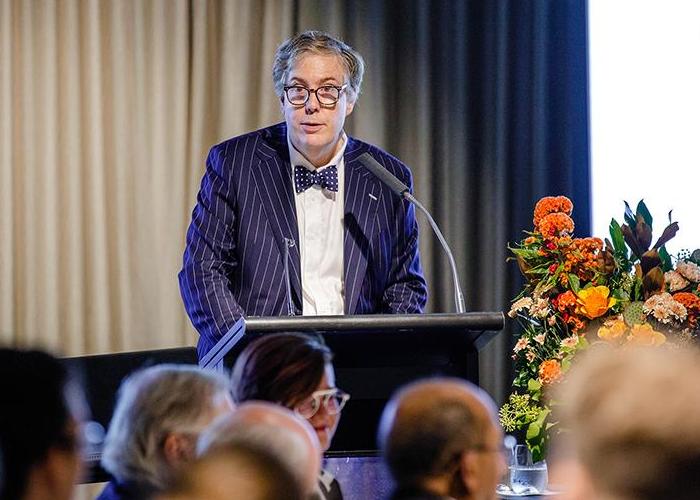 In welcoming the scholars, UQ Vice-Chancellor and President, Professor Deborah Terry AO said that "universities impart so much more than technical expertise or subject-specific knowledge."
"We also teach students how to learn, how to question and how to think critically about the world we live in.
"Here at UQ we take this responsibility very seriously. And partnerships, such as the very special one we have with the Ramsay Centre are crucial as we seek to deliver on this responsibility – on our promise to be a place of light, of liberty and of learning."
Professor Terry said the extended major in Western Civilisation is the single most competitive humanities course for entry in Australia due to the calibre of the course design and material and student satisfaction.
"There's a broader desire for courses which champion pluralism, open discussion and the importance of learning above all else."
Ramsay Centre CEO Professor Simon Haines said the major offered a rare type of education that not many people get in this country or anywhere else.
"The Socratic teaching method provided students with space to think, rather than just filling it with their teachers' instruction.
"Then there's a moment of discovery, of insight, which is wholly your own, it belongs to you alone – and yet it's also at the same time in relation to an object (a great text) which has brought just that kind of moment to generations of participants in the same conversation," he said.
2020 Ramsay Scholar Imogen Ryan-Kerr, who is studying a double degree in Law and Humanities, said she was drawn to the course because she has always been fascinated with history.
"I enjoy different perspectives of the world, and what it means to be human."
Ramsay Centre Chairman the Hon John Howard OM AC acknowledged the extraordinary generosity of the late Paul Ramsay AO, who left a large part of his endowment to foster the study of the great formative works and institutions of our civilisation, making the special partnership with UQ possible.    
The Ramsay Centre and UQ entered a partnership in 2019. Worth approximately $50 million over eight years, the partnership enables UQ to offer at least 150 undergraduate scholarships over that period and to hire world-class educators to teach its Western civilisation program.