The University of Queensland's latest cohort of UQ Ramsay Scholars were officially welcomed at a special reception held at Custom's House last month.

Approximately 100 Scholars from all cohorts attended the event, alongside representatives of the Ramsay Centre's Executive and Board, and UQ's Chancellor and Vice-Chancellor.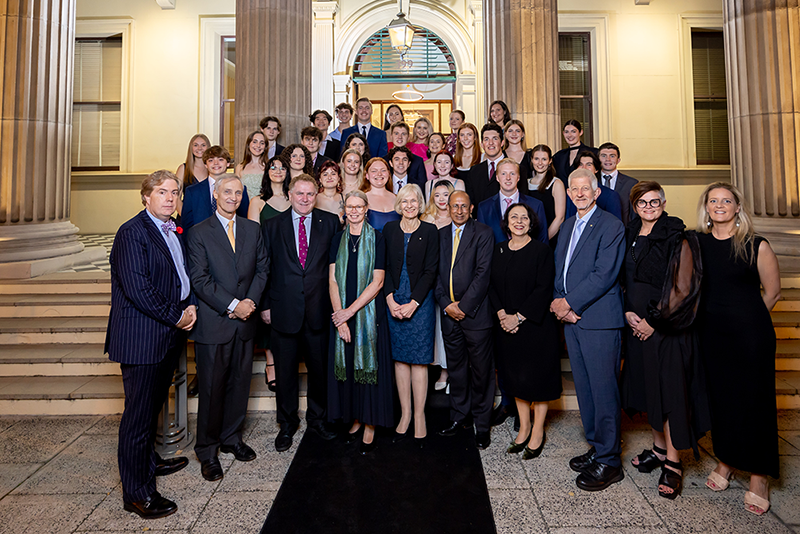 This is the fourth intake of UQ Ramsay Scholars into the extended major in Western Civilisation – the single most competitive humanities course for entry in Australia. 

UQ Ramsay Scholars are supported to study Western Civilisation in either the Bachelor of Advanced Humanities (Honours) degree, or the Bachelor of Humanities/Bachelor of Laws (Honours) dual degree, through scholarships worth up to $32,000 p.a. for up to five years. 

Approximately 30 scholarships are awarded each year to academic high achievers who desire to make a difference. Each year the program also accepts increasing numbers of students without a scholarship into the major, reflecting the course's growing popularity. 

Graduation will hit a milestone this year with the first cohort of UQ Ramsay Scholars graduating from the Western Civilisation extended major.

Internationally-acclaimed classicist Professor Alastair Blanshard promises to immerse students in a creative and diverse curriculum with a strong focus on key intellectual works – artistic, musical, literary – that have shaped Western Civilisation from antiquity to the current day.

UQ Vice-Chancellor and President, Professor Deborah Terry AO said while automation, robotics and artificial intelligence are rapidly changing our lives, the study of humanities, including Western civilisation, is essential.

"We need to heed the lessons of history as we navigate the social consequences of an unprecedented rate of technological change," Professor Terry said.

"We need leaders who understand the intellectual foundations of our laws and the origins of democracy, and who deeply embrace the importance of freedom of speech, diversity, and intellectual curiosity. 

"We need leaders who appreciate the roles art, music and great literature play as windows into both the history and the core nature of humanity, what it means, what is stands for and what we need to protect."

Ramsay Centre Board Member Dr Amanda Bell AM acknowledged the extraordinary generosity of the late Paul Ramsay AO, who left a large part of his endowment to foster the study of the great formative works and institutions of our civilisation, making the special partnership with UQ possible.
 
Dr Bell described Paul Ramsay as one of Australia's greatest philanthropists and appealed to the scholars to value their opportunity "as much as Paul Ramsay valued the young people of the future when he imagined his philanthropic vision for you and others like you."

Ramsay Centre CEO Professor Simon Haines urged the scholars to make the most of their studies.

"Reading Great Books expands our brain capacity, making us more able to absorb detailed, meaningful information and contextualise the present, in a way that social media never enables us to do," he said.

2021 Ramsay Scholar Jamie Robbins, who is studying a double degree in Law and Humanities, spoke on behalf of the scholars at the event.

Alongside his studies, Jamie has consulted to the Indonesian government on the environment, worked on a recent Royal Commission, and is the 28th Youth Governor of Queensland, delivering the state's premier non-partisan youth program.

Jamie said the Ramsay Scholarships and degrees were life-changing, enabling some scholars to relocate to study at UQ, others to immerse themselves in their studies with less financial strain, and others to work alongside their degrees in areas that align with their future aspirations. 

The Ramsay Centre and UQ entered a partnership in 2019. Worth approximately $50 million over 8 years, the partnership enables UQ to offer at least 150 undergraduate scholarships over that period and to hire world-class educators to teach its Western civilisation program.