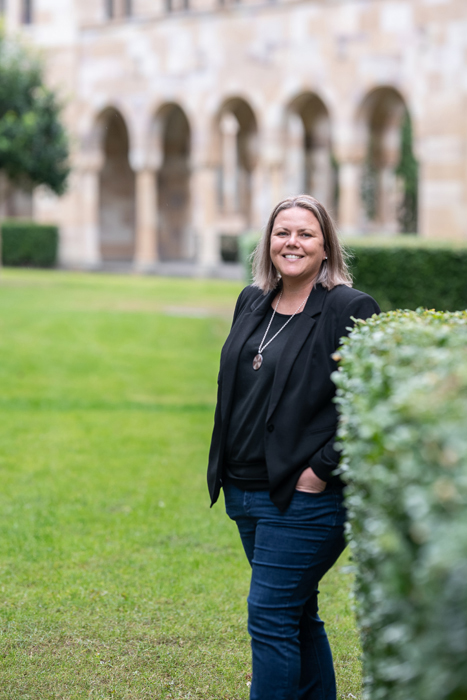 The strengths and contributions of Aboriginal and Torres Strait Islander peoples in STEM fields is being celebrated in a new podcast from The University of Queensland.
Associate Professor Marnee Shay from UQ's School of Education has launched the series, with support from the Australia's Women in STEM Ambassador, which follows 12 Indigenous trailblazers in STEM as part of a larger project.
The Big Mob STEM it up project is designed to inform the Commonwealth Government's Diversity in STEM Review with research that will examine the effectiveness of initiatives supporting the retention and progression of women and other underrepresented groups in STEM careers. 
Dr Shay said it will provide crucial insights into what works and what doesn't, informing the development of interventions to address existing inequities and improve diversity within the STEM workforce.           
"The design of this research is broad in scope, and our aim is to consolidate what is already known about Indigenous participation in STEM and contribute new knowledge through the elevation of Indigenous voices, knowledges and perspectives," Dr Shay said.
Part of the research includes yarning with Indigenous trailblazers in STEM.
"The yarns are with Aboriginal and Torres Strait Islander people across diverse STEM fields about their stories and experiences navigating their careers in STEM.
"These have been transformed into a podcast series to develop a valuable resource for Indigenous communities and schools seeking to increase Indigenous participation in STEM."
Big Mob, STEM it up seeks to understand Indigenous participation in STEM through a strengths-based lens.
"We will listen to the stories of our people who have excelled in STEM despite the barriers.
"We will also get to hear from our people from diverse community backgrounds to gain a broader understanding through Indigenous voices on strengths, barriers, and aspirations."
The announcement of the Pathway to Diversity in STEM review has highlighted the importance of Indigenous participation in STEM.
A background paper from the Aboriginal and Torres Strait Islander Higher Education Council reveals that while there has been recent growth in Indigenous student enrolment in STEM higher education courses, it still falls short of achieving parity with non-Indigenous students and other fields of study.
"Through looking at the persistent problem of low Indigenous participation in STEM in a different way, we are expecting to learn something new about addressing the issue that is Indigenous informed and addresses key policy challenges," Dr Shay said.

"The project strives to create pathways for Indigenous individuals to excel and contribute their invaluable perspectives and knowledge to the STEM community."
The Pathway to Diversity Review will provide recommendations to the Australian Government on how to support access and inclusivity within STEM education, careers, and industries.
"I am very pleased to be leading this research and collaborating with Australia's Women Ambassador for STEM, Professor Lisa Harvey Smith, and her team to produce evidence-based and Indigenous-informed recommendations for improving the representation of our mob in STEM fields."
Led by Dr Shay, the Big Mob, STEM it up research team includes UQ Education's Ren Perkins (Indigenous postdoctoral research fellow), Associate Professor Jodie Miller, Ms Amy Thomson (PhD Candidate), Ms Antoinette Cole (PhD Candidate) and Dr Suraiya Abdul Hameed, in collaboration with Professor Lisa Harvey-Smith and Associate Professor Lisa Williams from UNSW.
Listen to the first 4 episodes of the podcast series here.