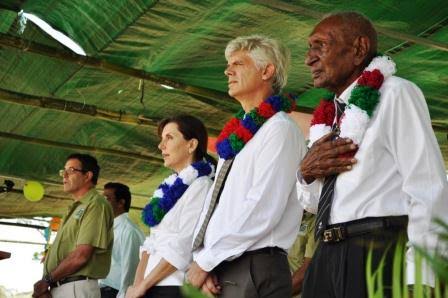 A new website hosting interviews with prominent Papua New Guineans on the period leading up to and following that nation's independence from Australia in 1975 has been launched today.
'PNG Speaks' has been developed by the National Museum and Art Gallery of Papua New Guinea, The University of Queensland (UQ), Deakin University and the Australian Government to preserve Papua New Guinea's oral history.  
Papua New Guinea National Museum and Art Gallery acting Director Mr Senea Greh said the PNG Speaks project provided important insights into how Papua New Guineans experienced the transition to an independent nation in 1975. 
"This project comes at a time when we are looking back at PNG's path to independence over the years since the end of World War II," he said.
"This is the subject of a major exhibition at the National Museum and Art Gallery, scheduled for later in 2017."
UQ's School of Historical and Philosophical Inquiry Adjunct Professor and former Australian High Commissioner to PNG Mr Ian Kemish said the figures interviewed represented only a sample of the many people who had important views and recollections to share on the period.
"We recognise that, given the many thousands of Papua New Guineans who participated in the independence period, this website will remain a work in progress for many years," Mr Kemish said.
Deakin University's Dr Jonathan Ritchie said Dr Anne Dickson-Waiko from the University of Papua New Guinea and Professor Musawe Sinebare from the University of Goroka had played significant roles in the planning and conduct of interviews.
"This project is an important element in a broader body of oral history research which sheds light on key moments in PNG's rich history," Dr Ritchie said.
Those interviewed so far have included Grand Chief Sir Michael Somare (pictured left), former PNGDF Commander Ted Diro, prominent journalist Biga Lebasi, former senior public servants Charles Lepani and Jean Kekedo, Papuan separatist leader Dame Josephine Abaijah and political scientist and former premier Stephen Pokawin.
The website also contains resources, including a digitised version of A Papua New Guinea Political Chronicle by UQ's Emeritus Professor Clive Moore and Dr Mary Kooyman, which provides detailed contemporary accounts of PNG political developments from 1967-1991.
Australian High Commissioner to Papua New Guinea Mr Bruce Davis said the High Commission was pleased to have partnered with organisations in Papua New Guinea and Australia to support the project.
"To better understand one's history is to understand the opportunities of the future, which is why projects like this are so important," Mr Davis said.
Media: Gillian Ievers, Faculty of Humanities and Social Sciences, g.ievers@uq.edu.au , + 61 7 33461634; Mr Ian Kemish, i.kemish@uq.edu.au, 0404 212558; Dr Jonathan Ritchie, jonathan.ritchie@deakin.edu.au; Dr Anne Dickson-Waiko, Anne.D.Waiko@upng.ac.pg.