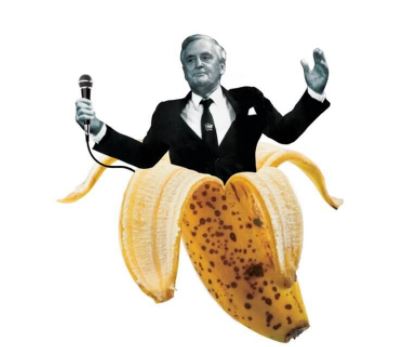 A satirical and musical interpretation of Sir Joh Bjelke-Petersen's run for office has come about from a union of two University of Queensland creatives.
Award-winning playwright and UQ academic Dr Stephen Carleton has joined forces with UQ alumnus and composer Dr Paul Hodge to conceive Joh for PM.
Featured at Queensland Music Festival, the show is set at a fundraiser held for Joh's campaign in 1987, and is a fun-filled, musical journey through the extraordinary story of his long political reign.
Dr Carleton said he felt immediately burdened by the responsibility of telling the story of a towering, polarising figure in Queensland's political history.
"There's no one in or from Queensland who was alive during Joh's tenure who doesn't have a strong opinion about the man – so where do I start?" he said.
"With an eye on Joh's legacy, and the relevance of the story to a national audience, Joh's doomed attempt to run for the highest office in the land seemed an apt framing device.
"With all the elements of Greek tragedy at its core - a political king who has built himself up from nothing reigns over a golden period in state economic history – it was only Joh himself who didn't seem to realise how doomed his fate really was."
Composer Dr Paul Hodge came on board in 2016 and brought with him a surgical precision to the piece's musical structure.
Dr Hodge said that, with a story spanning many decades, they had to be selective in what they portrayed.
"Our story is only one version of the Joh story, and our focus was finding the humour both textually and musically," Dr Hodge said.
"One of the pleasures for me was portraying this large span of time musically, and bringing the glorious characters that Stephen has created to musical life.
"The music of the show moves forward with the time period so you can expect some '60s protest music, 70s disco, and some gloriously trashy 80s hits."
Dr Carleton and Dr Hodge both said they worked hard to balance the expectations of those who knew and felt strongly about Joh, and the mission to inform younger generations without preaching or instructing.
Joh for PM will be showing at Brisbane Powerhouse from 7-16 July.
You can hear Dr Hodge talk about his career experiences during a mentorship with famed theatre lyricist and librettist Alan Boublil (Miss Saigon, Les Miserables). Details to be released soon on the Queensland Music Festival website.
Media contact: Stephen Carleton s.carleton@uq.edu.au +61 7 334 68739 or Paul Hodge pauljhodge@gmail.com