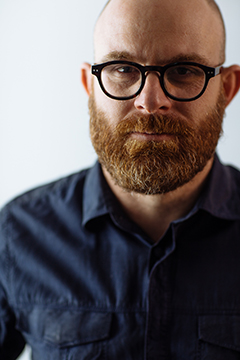 University of Queensland graduate Liam Ferney has been shortlisted for the 2017 Prime Minister's Literary Awards in the poetry category for his latest collection Content.
Mr Ferney who graduated with a Bachelor of Arts (Honours) in 2001, said the acknowledgement of being nominated was fantastic.
"I'm not too proud to say I work very, very hard – my wife sometimes says too hard," he said.
"Most of my friends and colleagues aren't in the poetry world but they can see something like the Prime Minister's Literary Awards is significant and they understand what it is I'm doing all these nights and weekends."
Content focuses on the contradictions of modern life and one of the award's judges commented: 'This is exhilarating, frequently hilarious, language-driven poetry that shows us precisely where we're at. It may not be the news we want to hear, but Ferney's poems bring the news we deserve and undoubtedly need.'
This is Mr Ferney's third collection, he is also the author of Popular Mechanics (2004) and Boom (2013) which was shortlisted for the Kenneth Slessor Poetry Prize and the Judith Wright Calanthe Award.
Mr Ferney started writing poetry when he was 12 years old and credits doing speech and drama as a child with sparking his interest.
"It feels like it has always been a part of me," he said.
"I suppose I got a good grounding in metre and the feel of poems from doing speech and drama and reading in Eisteddfods from about the age of seven."
Mr Ferney juggles his poetry with a full time job in communication where he spends much of his time writing key messages and soundbites.
"Hopefully, my skills as a poet help me draft resonant and powerful messaging that changes people's opinions about things," he said.
"I used to be a political advisor and it's ironic that the words I've written that have reached the most ears, have been uttered by other people."
Although Mr Ferney said he is comfortable reading his poetry in front of an audience.
"In one sense poetry is about the music of language and to really appreciate it you have to be able to hear the language.
"A live performance is also a chance to try and unpack poems a little bit and give audiences a way into the work."
Mr Ferney said he has fond memories of his time as a student and his time at UQ helped him form an identity as a writer.
"I remember discovering so many writers and thinkers in the Humanities library.
"I was very lucky to study under one of Australia's most admired poetry critics Martin Duwell and one of my good UQ mates is a fellow poet Jaya Savige."
The 2017 winners of the Prime Minister's Literary Awards will be announced on Friday 1 December.
Media: Gillian Ievers: g.ievers@uq.edu.au / 07 3346 1634, Liam Ferney: liam_ferney@yahoo.com.au