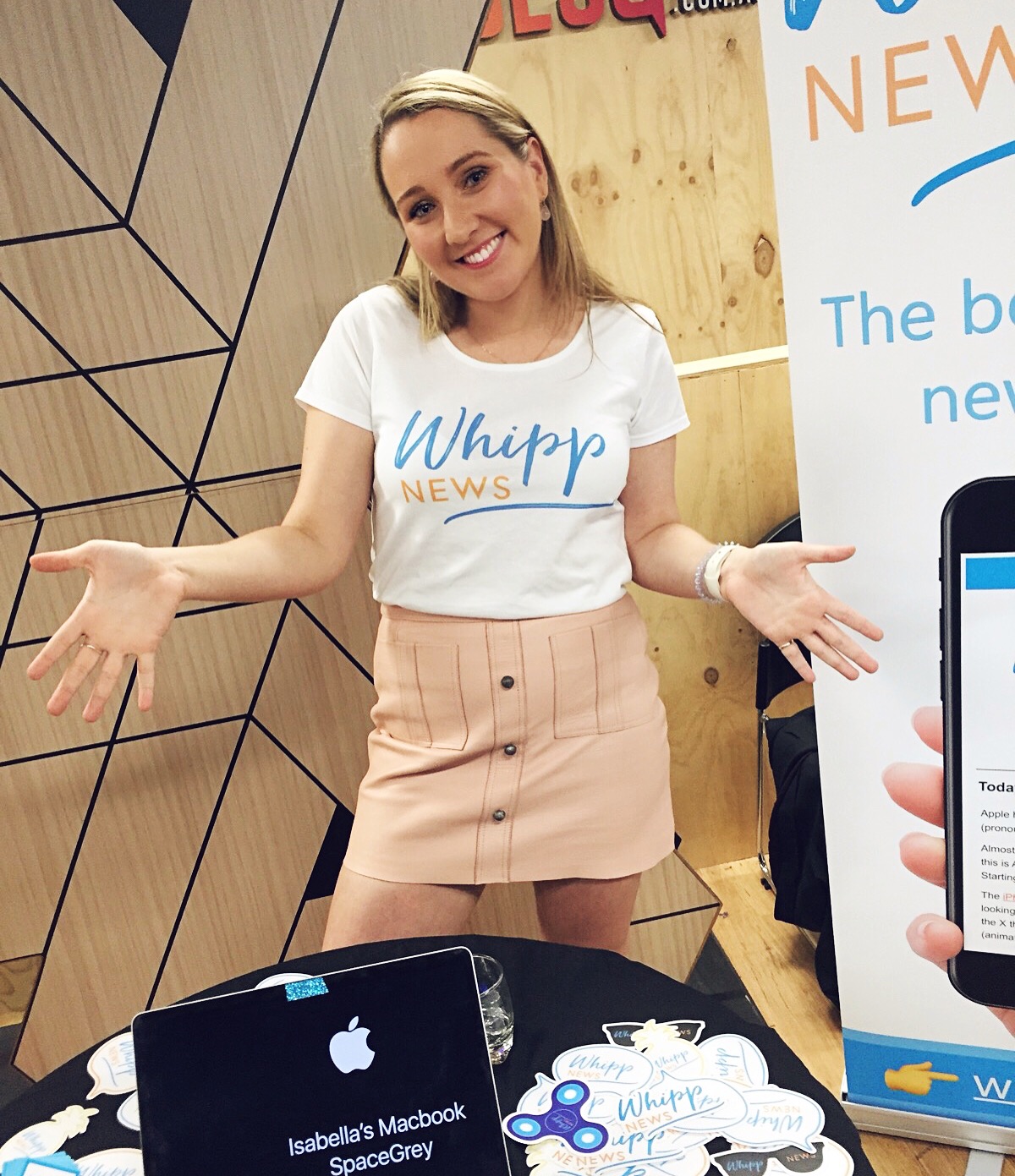 Student Isabella Hawker will leave The University of Queensland as founder of her own media company and a graduate of both the Bachelor Arts and Bachelor of Communication programs.
Ms Hawker, from Paddington in Brisbane, came up with the idea of WhippNews last year after realising her friends and colleagues were frustrated at finding time to stay up-to-date with world news.
"In the 24hr news cycle there was just not enough time and there seemed to be no news sources that were writing in an interesting and entertaining way," she said.
"So I decided to put my communications skills to work and create a news source specifically for millennials.
"I came up with the idea for WhippNews, a free email newsletter that summarises the top news stories you need to know three mornings a week.
"It was very exciting, but a lot of work. Getting up at 4.30am every Monday, Wednesday, and Friday morning to curate and summarise the news was hard at first, but once I was in a routine it got easier.
"Other than writing and sending out WhippNews I would spend another five hours a week editing the website, managing social media, making changes to our style and promoting/trying to grow our subscriber base."
Ms Hawker said the biggest challenge in the early days was lack of support, but this changed when she signed up to UQ's ilab start-up accelerator program.
"ilab was an incredible experience that has definitely affirmed the path for WhippNews," she said.
"Going through the program developed both my personal and professional skills.
"Every week we were taught practical tools that we could implement into our start-ups immediately.
"We would also meet other entrepreneurs or experienced business advisors who gave us amazing advice.
"Our entrepreneur in residence Darren Rogan, was both a start-up genius and so supportive, every meeting with him was different, offering advice and learning from his past experiences.
"It was such an invaluable experience that if I could I would do all over again," she said.
The experience has paid off and Ms Hawker was recently named one of Anthill Magazines 30 under 30 winners, an initiative to encourage and promote entrepreneurship among young Australians.
Next year Ms Hawker plans to work full time growing and developing WhippNews with the assistance of two interns who are UQ journalism and communications students.
"I have always been very focused and interested in media and communications, so I am not surprised that I am working in this industry, I just never thought it would be my own," she said.
After more than a century of graduations, UQ is celebrating a major milestone this December: 250,000 graduates. You can read more about the achievement here.
Media: Gillian Ievers: g.ievers@uq.edu.au; +7 3346 1634, Isabella Hawker (back in Brisbane December 7 to 15) isabella.hawker@uq.net.au