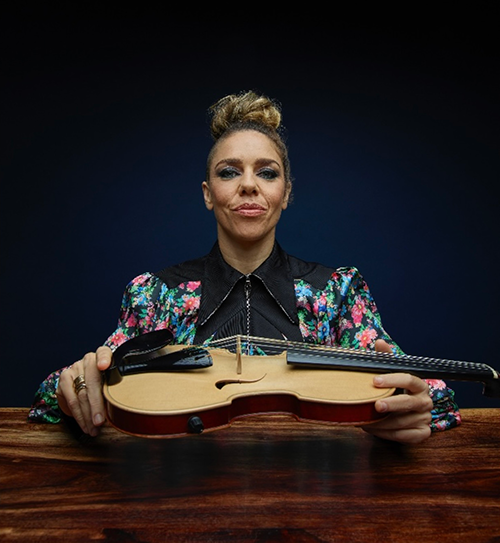 The UQ School of Music's new label Corella Recordings is proud to announce its second major release, PRIMA VOLTA by Véronique Serret. 
One of Australia's most creative and masterful violinists, Serret explores a sound world of texture and tone on her forthcoming album that features four new works written for 6-string electronic violin and effects pedals.
The album is brought to life with Serret's unparalleled performance as the music explores haunting ambience, hypnotic loops, and barrages of aggressive distortion.
Composers E.B. Kerr, Ivana Radovanovic, David Reaston and Chris Perren contributed to PRIMA VOLTA, writing specifically for Serret's instrumental and technical setup.
"As a brand new label, it is extremely exciting for us to work with a legend like Véronique, and a great experience for the students who have been involved with the project," Corella Recordings producer Chris Perren said.
"Véronique is a stunning player and a fearless sonic explorer, and to also have William Barton appearing on the album makes for an incredibly rich musical journey, full of amazing textures and surprising twists and turns, from the serenely beautiful A Supernatural Pet 1.2 to the eerily unsettling title track, PRIMA VOLTA."
Music from PRIMA VOLTA was incubated during a residency at Campbelltown Arts Centre in 2015, and refined iteratively through years of live performances.
Serret reflected on the origins of PRIMA VOLTA when she finally received her long awaited 6 string violin custom built by luthier Paul Davies.
"My arsenal of pedals ready: looper, chorus, delay, space reverb and of course distortion…I selected the 4 works which over time I reworked and with the permission of the composers, organically made my own," she said.
PRIMA VOLTA features William Barton on Didgeridoo, who contributes to the album's immersive aesthetics.
One of Australia's most versatile musicians, Serret performs regularly in concert halls and rock 'n' roll stages across the world.
As a soloist and collaborative artist, she has worked extensively with Bangarra Dance Theatre, Australian Chamber Orchestra, Sydney Dance Company and as concertmaster of the Darwin Symphony Orchestra.
Serret is also a member of Ensemble Offspring and collaborates regularly with didgeridoo legend William Barton – both have been commissioned by Artology (Sydney Festival), Canberra International Festival of Music and the ABC.
PRIMA VOLTA will be released on Wednesday 12 October 2022 via Corella Recordings.