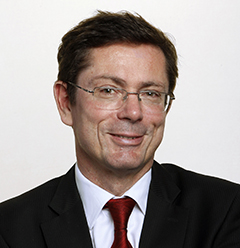 Special Adviser on the Responsibility to Protect to the United Nations Secretary-General, Mr Ivan Šimonović, has been conferred the title of Honorary Professor by The University of Queensland (UQ).
Through Mr Šimonović's work to further the political, institutional and operational development of the Responsibility to Protect principle, he has developed close links with the Asia Pacific Centre for the Responsibility to Protect (APR2P) which is based at UQ.  
Mr Šimonović said he was delighted to accept the appointment and strengthen his relationship with the APR2P Centre which played an important role in the region.
"It has helped build support for the Responsibility to Protect principle and forge constituencies engaged in the effort to strengthen the prevention of atrocity crimes and protection of vulnerable communities at the national, regional and global levels," Mr Šimonović said.
Director of the APR2P Centre Professor Alex Bellamy, said Mr Šimonović s acceptance of the role would raise the profile of the Centre's work.
"His appointment is timely as globally and regionally we continue to observe atrocity crimes and the systematic abuse of the most fundamental human rights," Professor Bellamy said.
Executive Dean of UQ's Faculty of Humanities and Social Sciences, Professor Tim Dunne, said Mr Šimonović s appointment would also greatly benefit students interested in working in this area.
"Researchers and interns in the APR2P Centre and students interested in human rights will now have a unique opportunity to engage with one of the world's leading human rights practitioners," Professor Dunne said.
Mr Šimonović was the Minister for Justice in Croatia before joining the UN in 2010 where he held the role of Assistant Secretary-General for Human Rights and head of the Office of the High Commissioner for Human Rights in New York before his current appointment as Special Adviser.
He will hold the role of Honourary Professor at UQ for three years.
The APR2P is a partnership between the University and the Department of Foreign Affairs and Trade. It works with partners in almost every corner of the region, stretching from Myanmar to Japan, promoting R2P and facilitating national action to prevent atrocities.
Media : Arna Chancellor Centre Manager APR2P, +61 733466435 or r2pinfo@uq.edu.au, Professor Alex Bellamy Director APR2P a.bellamy@uq.edu.au