Bachelor of Music (Honours)
Understanding your Bachelor of Music (Honours) Program
The information below explains some of the terms used and the requirements of your Bachelor of Music program.
Additional program information can be found here.
Programs, Courses and Units

 At UQ we refer to your degree as a program and a subject as a course. 
---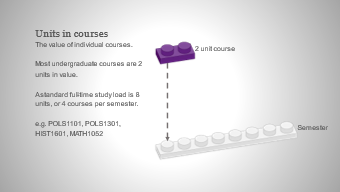 Courses
Most UQ courses are 2 units in value.
If you are a full-time student you will undertake 8 units (4 courses) each semester.
---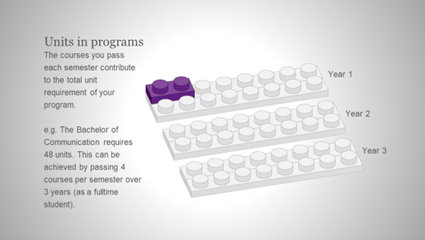 Units
To complete the Bachelor of Music (Honours) program you must successfully complete 64 units. 
As you progress you will complete courses at Level 1, Level 2, Level 3 and then Level 4. You must complete no more than 24 units of Level 1 courses.
---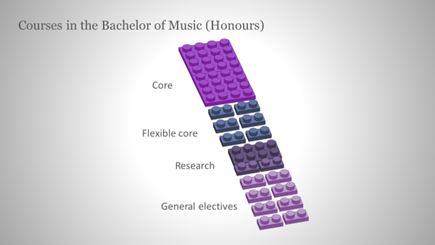 In order to complete the Bachelor of Music (Honours) program you must complete 64 units comprised of:
26 units of core courses
12 units of flexible core courses
10 units of research courses
16 units of general electives
---
Make sure to read the program requirements to ensure you understand the requirements of your degree.
Planning your Program
At UQ, a standard full-time workload is 16 units over the year – this breaks down to 8 units (or four courses) each semester.
You don't have to decide what courses you want to do for your whole program at the start of your first semester – we only ask you to choose courses one year at a time.
So, all you need to worry about at this stage is choosing four courses for Semester 1 and four courses for Semester 2, taking into account all compulsory core courses.
The Program Planner tool is designed to help you understand your program structure and select courses that may be of interest to you in your first year of studies. 
The Program Planner will also allow you to plan your enrolment for the duration of your program, can include any credit you may have from previous tertiary study and enables you to consider undertaking a semester on exchange.  
Please note that the Program Planner is a guide only and does not enrol you in your courses. You must enrol in courses through mySI-net.
The Starting at UQ website provides a guide for completing your enrolment.