Vision
We help HASS coursework students build connections and enhance employability through collaborative partnerships.
Mission Statement
We develop and implement student-facing initiatives that enhance future opportunities for HASS students, by: 
Facilitating opportunities to build a sense of belonging and support for HASS students
Creating more employability opportunities within and outside the curriculum
Working in partnership with and building networks among students, student societies, staff, industry and alumni
What we have been working on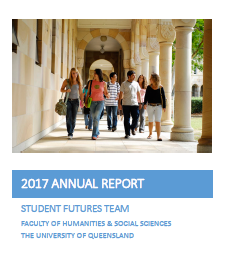 For an overview of our engagement and projects for 2017, please download our Annual report.
Values
Collaboration: We act as connectors and facilitators of collaboration across the HASS Faculty and beyond. Our activities are always collaborative and seek to engage with a wide range of partners, especially staff, students, alumni and industry.
Partnership: We engage in respectful and reciprocal partnerships to ensure that students' needs and interests remain central to our activities.
Innovation: We are passionate about enhancing the student experience and work diligently to understand and respond to students' needs. We take risks and test out new ideas to find out what works for HASS students.
Integration: Employability, retention and the student experience are interconnected. We take a holistic, integrated approach to enhancing the HASS student experience.
Our plans for 2018
Welcome and Induction: We will coordinate faculty level O'week activities to build connections and a sense of belonging for first year undergraduate and postgraduate coursework HASS students
HASS Crew: The HASS Crew will organise various cross-disciplinary and employability related events in 2018.
Clubs & Societies: We will engage with student clubs and societies in 2018 to support events and initiatives aimed at improving employability for HASS students.
Industry Mentoring Program: We will design and implement a pilot industry mentoring program to commence in semester 2, 2018.
Research: We will continue to conduct research on the pathways of HASS graduates, the future of work and employability.