What can you do with an Honours degree from the Faculty of Humanities and Social Sciences?
Our graduates end up all over the globe undertaking PhD's, working for governments, the private sector, non-for-profits, galleries, they go on to do teaching, researching, being project managers and undertaking many other roles! Having your Honours gives you a step up from the competition and opens you up to a world of opportunities. 
Check out some of our graduates and be inspired to undertake 'One year. One extraordinary research experience'. 
6. Connor Haddad, BComm (Hons)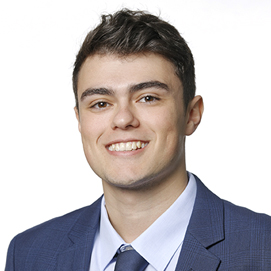 What was the best thing about your Honours program?
The Honours thesis is accelerated learning, and looking back, I think my last year was as valuable as the first three. If someone told me they had more to give approaching graduation, I'd recommend applying to the Honours program. I got to rehash the most important core topics of the media and communication discipline, while gaining an in-depth knowledge of an interesting thesis topic.
What advice would you give to those considering Honours?
My top tip would be to use the flexibility that university offers to your advantage. During semester breaks or lulls in workload, create something or gain work experience in your discipline. I wish someone had told me that very few degrees have perfect application to your future job. The experiences you chase alongside your studies are crucial to getting the most out of your degree. 
What are you up to now and how did your Honours degree get you there? 
My current role is as a management consultant. This involves solving a variety of problems for private and government organisations to improve their performance. The role involves research, interviewing, interpersonal communication with clients, public speaking and data analysis - all skills I learnt during my studies at UQ.